« Even at Christmas, Mother Russia Screams Like a Banshee. | Main | Overheard on Delta Flight 1537: The State of Facebook, Twitter, Social Media and other Cyber-Society. »
December 28, 2011
Is China and China business really all over Africa? If so, just how much? Discuss.
Finally, there's a site that covers the above inquiry. See by American University's Deborah Brautigam the blog China in Africa: The Real Story. Start out with this one, "China's 'Checkbook Diplomacy' and Overseas Investment Reconsidered".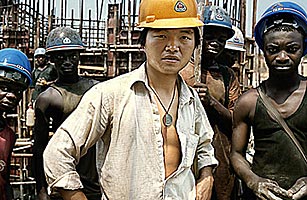 Workers at Imboulou Dam, in the Democratic Republic of Congo, a power plant funded by the China National Mechanical & Equipment Corporation. Photo: Paulo Woods.

Posted by JD Hull at December 28, 2011 04:45 PM
Comments
Post a comment
Thanks for signing in, . Now you can comment. (sign out)
(If you haven't left a comment here before, you may need to be approved by the site owner before your comment will appear. Until then, it won't appear on the entry. Thanks for waiting.)