September 23, 2018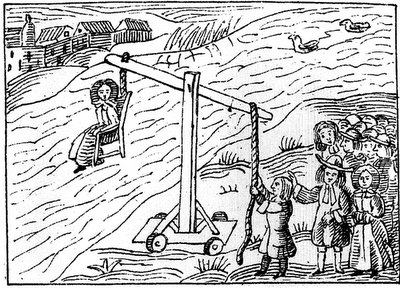 Posted by JD Hull. Permalink | Comments (0)
September 22, 2018
Ah, the Autumnal Equinox. Cultures and religions worldwide do get weird this time of year. They always have. It's called Mabon, Foghar, Alban Elfed, Harvest Home, Second Harvest, Fruit Harvest (especially SF), and Wine Harvest (Boston). What's Mabon, anyway?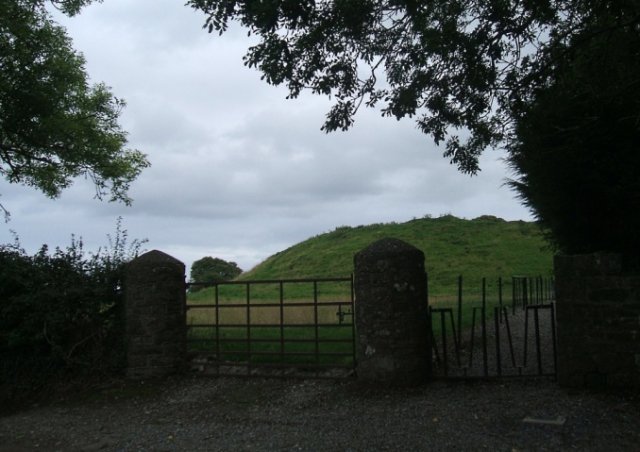 Posted by JD Hull. Permalink | Comments (0)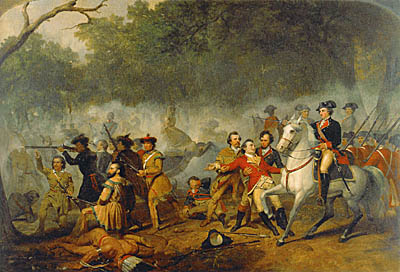 The early-in-the-case Rule 56 motion. Note the well-dressed Brit General Counsel taking a bullet.
Rule 56
.....
(d) When Facts Are Unavailable to the Nonmovant. If a nonmovant shows by affidavit or declaration that, for specified reasons, it cannot present facts essential to justify its opposition, the court may:

(1) defer considering the motion or deny it;
(2) allow time to obtain affidavits or declarations or to take discovery; or
(3) issue any other appropriate order.
Trial lawyers, in-house counsel and law students know that Rule 56 of the Federal Rules of Civil Procedure, or summary judgment, gives a litigant an opportunity to win on its claims or dispose of the opponent's claims relatively quickly and without trial. Accompanied by sworn affidavits, and most often discovery responses, a Rule 56 motion tries to show that there is no real dispute about key facts and that the movant is entitled to judgment under the law. If the trial court grants it, the movant wins on those claims.
But what if a summary judgment motion is brought against your client suddenly and early in the case and the local rules of the district court don't give you much time to develop and prepare an opposition? After all, Rule 56 lets a party who has brought a claim file for summary judgment after 20 days, and defendants can file "at any time".
It happens pretty frequently. Both plaintiffs and defendants make the motion early on. Defendants do it the most. No matter who moves early, or how it is eventually resolved by the district court, it's very disruptive. It will fluster even the most battle-hardened-been-there-seen-that GC or in-house counsel. It's an expensive little sideshow, too. Everyone in the responding camp hates life for a while.
Subdivision (d) of Rule 56, "When Facts Are Unavailable to the Nonmovant", provides a safeguard against premature grants of summary judgment. Some good lawyers seem either to not know about--or to not use--subdivision (d) of Rule 56. In short, you file your own motion and affidavit--there are weighty sanctions if you misuse the rule, so be careful--stating affidavits by persons with knowledge needed to oppose the motion are "not available", and stating why. (More senior lawyers may know this provision as Rule 56(f); it was re-lettered in the 2010 amendments to the federal rules.)
The federal district court can then (1) deny the request and make you oppose the motion, (2) refuse to grant the motion or do what you really want it to do: (3) grant a continuance so that you can develop facts and, better yet, take depositions or conduct other discovery. Granted, it's a rule that delays, but if used correctly, Rule 56(d) can give you the breathing room and time you need to develop the client's case--not to mention avoiding the granting of summary judgment.
Posted by JD Hull. Permalink | Comments (0)
September 21, 2018
There is no joy except in creation. There are no living beings but those who create. All the rest are shadows, hovering over the earth, strangers to life. All the joys of life are the joys of creation: love, genius, action...
--Romain Rolland (1866-1944), Nobel Prize winner, in "Lightning Strikes Christophe".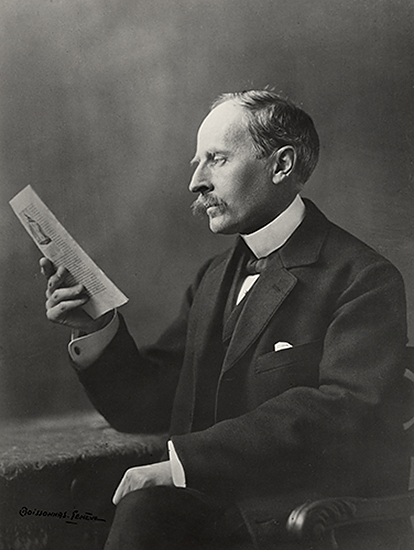 Posted by JD Hull. Permalink | Comments (0)
September 19, 2018
It is hard to find this track of the divine in the midst of this life we lead.

Hermann Hesse, Steppenwolf (1927)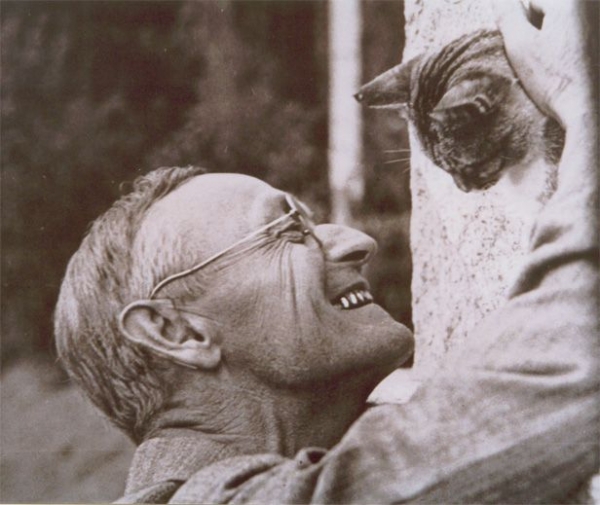 Posted by JD Hull. Permalink | Comments (0)
September 18, 2018


239 rue Saint-Honoré.
Posted by JD Hull. Permalink | Comments (0)
Lips like cherries and the brow of a queen,
Come on, flash it in my eyes.
You said you dug me since you were thirteen,
Then you giggle as you heave and sigh.
--R. Plant, J. Patrick, Albion Inc.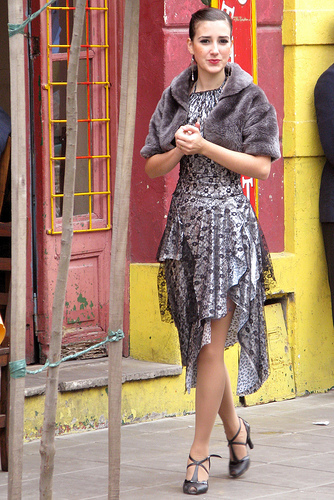 Through the circus of the Buenos Aires queens.

Posted by JD Hull. Permalink | Comments (0)
September 16, 2018
You can't wait for inspiration. You have to go after it with a club.

--Jack London (1876-1916)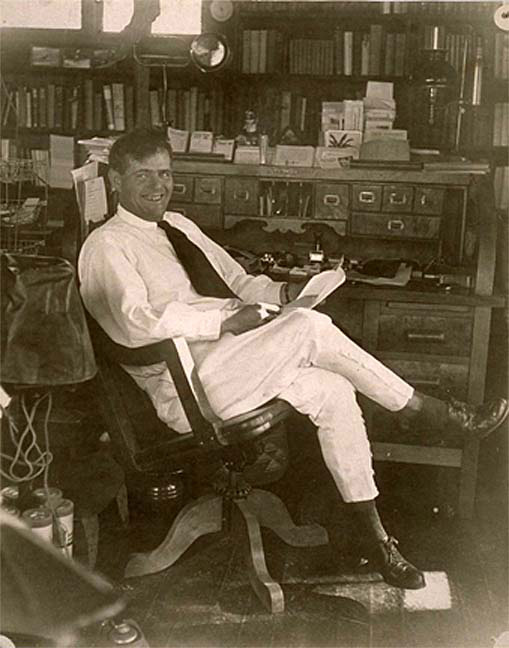 Posted by JD Hull. Permalink | Comments (0)
Books are fatal: they are the curse of the human race. Nine-tenths of existing books are nonsense, and the clever books are the refutation of that nonsense.

--Benjamin Disraeli (1804-1881)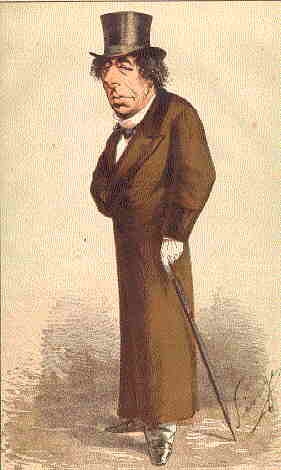 Posted by JD Hull. Permalink | Comments (0)
September 15, 2018
What do members of Congress really do, anyway?
What have they done traditionally? True, staffs are bigger now--but much of life on The Last Plantation is the same as 50 years ago. What values, if any, are shared by those on work in Capitol Hill?
The Brookings Institution first published "The Congressman: His Work as He Sees It" by Charles L. Clapp in 1963 (507 pages, Anchor). Congressional fellow, policy wonk and former Capitol Hill aide, Clapp was one of the first Washington "old hands" to study and write about the way a legislator actually thinks and works--as opposed to "how Congress works" generally--in the American Congress.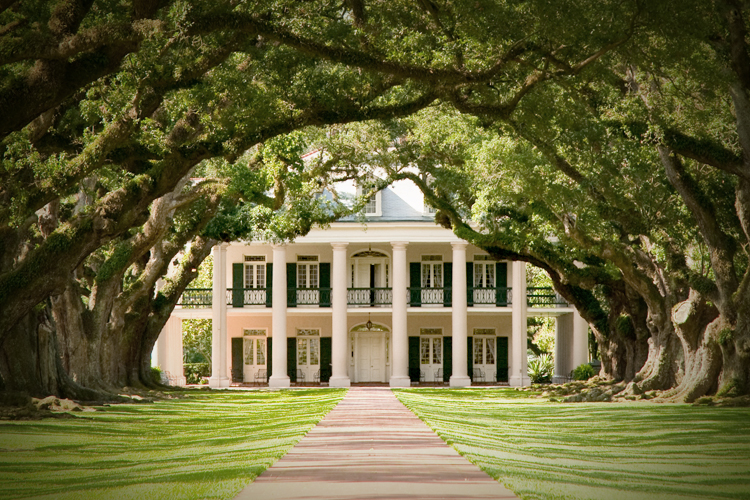 Posted by JD Hull. Permalink | Comments (1)
September 14, 2018
Below is a photo by Clear Blue Sky of the Winston Churchill statue in Paris. In 1998, it was erected and unveiled just outside the Petit Palais. In bronze and by French sculptor Jean Cardot, it stands ten feet high and weighs about 2.5 tons. Cardot modeled it on a photograph taken on November 11, 1944 of Churchill marching down the nearby Champs Elysees with General Charles de Gaulle.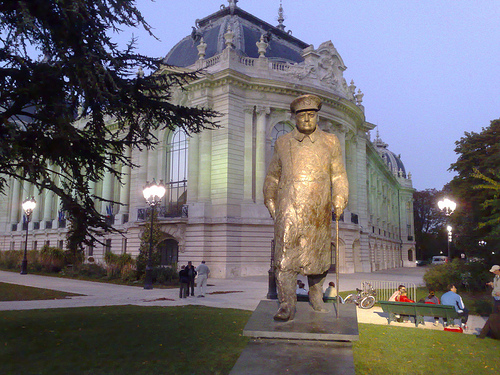 Posted by Holden Oliver (Kitzbühel Desk). Permalink | Comments (0)
As with London, and with the County of Suffolk to the north, from where my mother's family came to Massachusetts via Ipswich 384 years ago, I am completely and hopelessly in love with Kent, mainly the eastern ("Men of Kent") part. The County of Kent is the southeastern doorway to the British Isles--it has even more history, legend and myth than London. Lots, and maybe even too much, has happened here during the past 2500 years. Eventually, in 51 BC, Julius Caesar called it Cantium, as home of the Cantiaci. Augustine founded what became the Anglican Church here in about 600 AD. And of course Thomas Becket, Chaucer's "holy blissful martyr", was killed here (Canterbury) in 1170.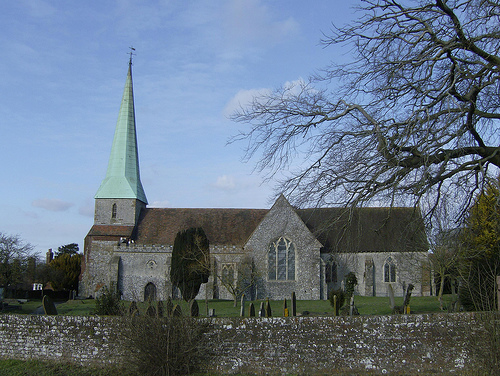 St. John the Baptist, The Street, Barham, Kent
Posted by JD Hull. Permalink | Comments (0)
September 12, 2018
It's not school. It's no longer about you.
(See Rules 1-6 here and at the links Rules 7, 8 and 9.)
Practicing law is getting it right, saying it right and winning--all with a gun to your head. Being "accurate, thorough and timely" are qualities most of us had in the 6th grade, right? Back when everyone told us we were geniuses and destined for great things? Well, school's out--now it's about real rights, real duties, real money and personal freedom. That's a weight, and it should be.
Suddenly facts are everything--and the actual law less important than you ever imagined. In time you learn to research, think and put things together better and faster. You develop instincts. You learn there is really no boilerplate and no "cookie-cutter" work. You learn there are no "right answers"--but several approaches and solutions to any problem. You are being asked to pick one. But at first, and maybe for a few years, being accurate, thorough and on time is not easy to do.
"I Have Clients?!" One day, you start to visualize your clients as real companies and real people with real problems. These are your clients--not your parents or professors--and they are all different. You "feel their pain", and it's now yours, too.
Mistakes. If you work with the right mentors and senior people, they will allow you to make mistakes. You need freedom to make mistakes. You'll be reminded, however, not to let those mistakes out of the office. It's a balancing act, a hard one.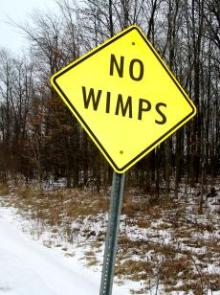 Really bad days? Your problem, Amber. You are expected to be a professional and put clients first on your worst damn day. A parent is sick, you are coming down with something yourself, your boyfriend is cheating on you, both of your boyfriends are cheating on you (and maybe with each other), your teenage kids "hate" you, and this morning you had to abandon that 12-year-old Honda you had in law school on the 14th Street Bridge.
And minutes before your big afternoon meeting or court appearance, a GC or co-worker calls you with the worst possible development, something unexpected and beyond your control, in a project for your favorite client.
These things will happen. And happen together.
You think you're pretty tough. But you sag visibly--like an animal taking a bullet. And in five minutes, you have to be at your very best. Again, it's not about school. It's no longer about you. You're beaten--but you have to get up and fight for someone other than yourself.
You up for this? Because, in our experience, very few of your peers are.
Bucking Up, Using Fear. And while you can't work in a state of constant worry, fear and paralysis, talking yourself into heroics, getting a little paranoid and even embracing a little fear won't hurt you, and may even help. You are being paid both (1) to be accurate, thorough, timely and (2) to just plain "not screw up".
"Thorough" means "anticipating", too. What makes you really good in a few years is being able to "see the future" and spot a ripple effect in a flash. To take a small example, if your client is in an active dispute with the government or on the brink of a full-blown litigation with a competitor, the client's and many of your own letters and e-mails aren't just letters and e-mails.
Whoa, they are potential exhibits, too. They can be used for you or against you. So they need to be written advisedly and clearly so that they advance your position and so that a judge, jury or someone 5 years from now can look at it cold and figure out what's going on. No "talking to yourself" here; think "future unintended consequences" when you think and write.
"But Not Perfect." Not talking about mistakes here. I refer to the paralysis of high standards. I know something about the second part of Rule 10--because I tended to violate it when I was younger. And I still want to.
Perfectionism is the Great Destroyer of Great Young Associates. Don't go there. Don't be so stiff and scared you can't even turn anything in because you want it "perfect" and you keep asking other lawyers and courts for extensions. It's not school, and it's no longer about you. Think instead about Rule 8: Think Like The Client--and Help Control Costs. Balance efficiency with "being perfect", and err on the side of holding down costs. If a client or senior lawyer in your firm wants your work to be "perfect", and for you to charge for it, believe me, they will let you know.
Finally, and I almost forgot: always use the Blue Book/Maroon Book for your citations. No one gets a pass on that one.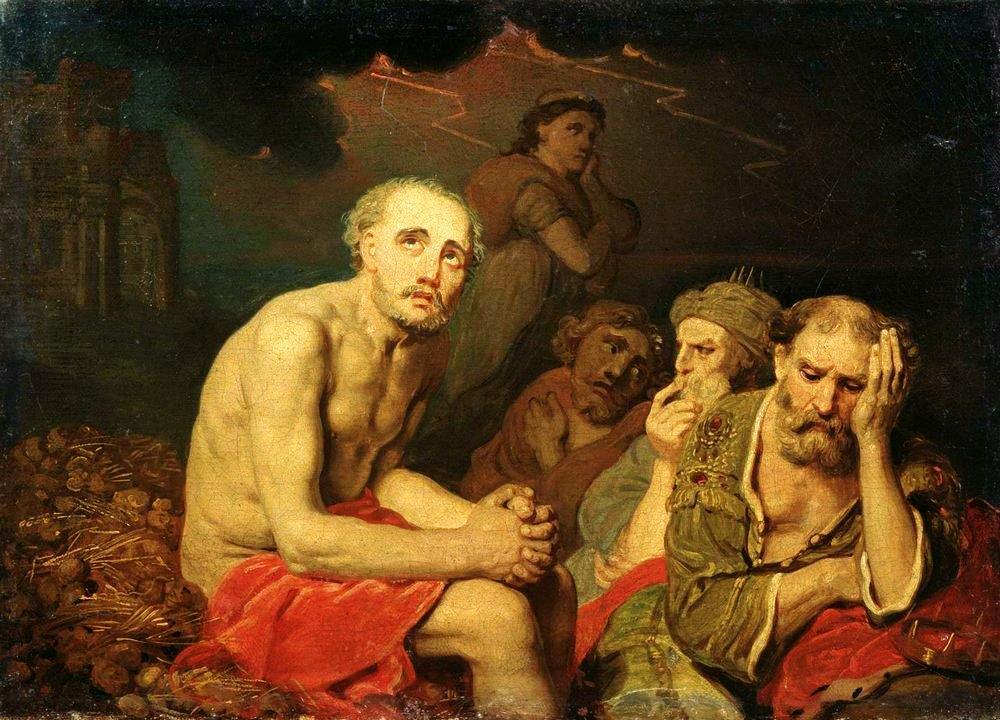 You conventionally religious? We are not. But some days lawyering you will just have to "get your Job thing on". You suffer. But you still perform. Job and His Friends, Vladimir Borovikovsky, 1810s.
Posted by JD Hull. Permalink | Comments (0)
Rule 11: Treat Each Co-Worker Like He or She Is Your Best Client.* Or, Why did Big Sally throw a DC phone book an associate? I still need to get better at this rule. People, of course, are every business's most important asset. So here are three very personal "aspects" of Rule 11, from the 12 Rules. The above is my non-litigation "Rule 11".
And these are, as it were, the "advisory committee notes":
First, in our workplaces, we need great people and we need to treat them with respect--not just buttering up. We need to give them prompt feedback--the good and the bad.
Above all, we need them to grow and be happy. Which frankly is not (like never) your problem unless you let it be. Failure to grow: it's their problem, unless you impede their growth.
(Note to Employers: Please get used to the above. Maybe repeat in over and over again. Get off your knees first. Good. And now say: "Any hire's mediocrity and lack of aspirations is not my fault. It's only my fault if I keep them." Repeat, you big Boomer weenie. Yeah, that's it.)
Second, I have a short fuse. I am focused on what I am doing, and I am not always perfectly nice. To bad guys. To good guys. To people I admire, respect, like and love. And since 1981, I have had approximately 25 secretaries. Okay maybe 35.
Posted by JD Hull. Permalink | Comments (0)
September 10, 2018
Oppression—Hurting Poors and Planet—is a stern task-master. Stressful. Once a month you should take a day off, wear a lavender shirt, act real sensitive and pick up girls at an art museum.
Posted by JD Hull. Permalink | Comments (0)
September 08, 2018
Over the years this blog has showcased a number of pet issues and themes. And apart from customer service, litigation strategies, lawyering abroad and cultural literacy. One of them has been the importance of thinking independently about law, government, politicians and political ideologies.
Or thinking about Anything. There are these days lots of good, and arguably "bad" notions and ideas--nationally and internationally--all along the political spectrum, and there is no reason to pick one party, camp or pol to follow on all ideas.
After all, people, not ideologies, solve public problems.
You don't need a label. You need not be a Democrat, Republican, Libertarian, Anarchist or Nihilst. You can "mix and match" both pols and ideas. Me? I've changed, if subtly, and in ways that trouble a friend here and there. But my thinking is pretty much the same as it was when I was in my 20s. As a "liberal", I never trusted Big Labor. I've never liked the "politically correct" speech regimen many traditional liberals unfortunately embraced. To the contrary, I've always admired free speech--and I revel in it. But the main change is that last year I registered Republican for the first time. Not much else is different.
Most of us do have a Political-Civil Rights-Human Rights-Social Justice resume, CV or profile (hereinafter "Political CV"). I use "political" broadly here to describe anything related to participation in public affairs where some social purpose was fully served beyond my own self-aggrandizement, ego or pleasure. More than one purpose is okay; few of us do anything out a pure heart to "will one thing." So below I've fashioned my Political CV. Forget about Dem or GOP or Libertarian scripts. I've listed things that I did in large part "for the public good." For example, things I'm not including are Senior Class President (mix of duties and agendas), Eagle Scout (the same), working in a union-shop factory (Keebler's, in my case), membership in student or church groups with some but not primary political or social welfare slant, merely being asked to run for Congress (and saying no), merely voting, serving on an elected but non-partisan Zoning Board for a community of 40,000 or going to see Jerry Rubin, Timothy Leary or Milo speak at the Cow Palace. Or throwing a huge pickle at an on-stage Iggy Stooge (and hitting him).
But passing out leaflets for a political candidate, demonstrating against POTUS candidate and Alabama Governor George Wallace or working regularly with the urban homeless? Oh yeah. Those are "political". They reflected my idea of furthering "the public good" at the time I did I them. You get the idea. There's got to be a cause, some heat, some passion in an activity that helps others. Doesn't matter if it's a national issue or not. Doesn't matter if there's rhetoric involved.
Anyway, I've been an "activist" in everything I've ever done--and particularly with respect to groups I've joined or with which I've identified. So since I was 16, here is my political resume in chronological order. I'll update it as I remember things things:
1. Campaigned twice for Jerry Springer (Ohio-D), for runs for Congress and City Council in Cincinnati.
2. Campaigned more briefly but earnestly for Howard Metzenbaum, U.S. Senator (Ohio-D)
3. Worked with Armstrong United Methodist Church in Indian Hill, Ohio on several long-term projects for inner-city kids in Cincinnati, Ohio. Some with my mother (Head Start). Some in connection with working toward God & Country Award for BSA. (I was Boy Scout.)
4. Worked twice at as counselor at a camp for inner-city handicapped kids at summer camp in Cincinnati.
5. My party's candidate for 1970 Governor of Ohio Boys State. I was "liberal" party candidate and lost to a black kid from Sandusky. Ohio named Tony Harris. The race made news on television and in newspapers all over Ohio.
6. Student Reporter, Duke University Daily Chronicle. Civil Rights beat, Durham. (1972-73)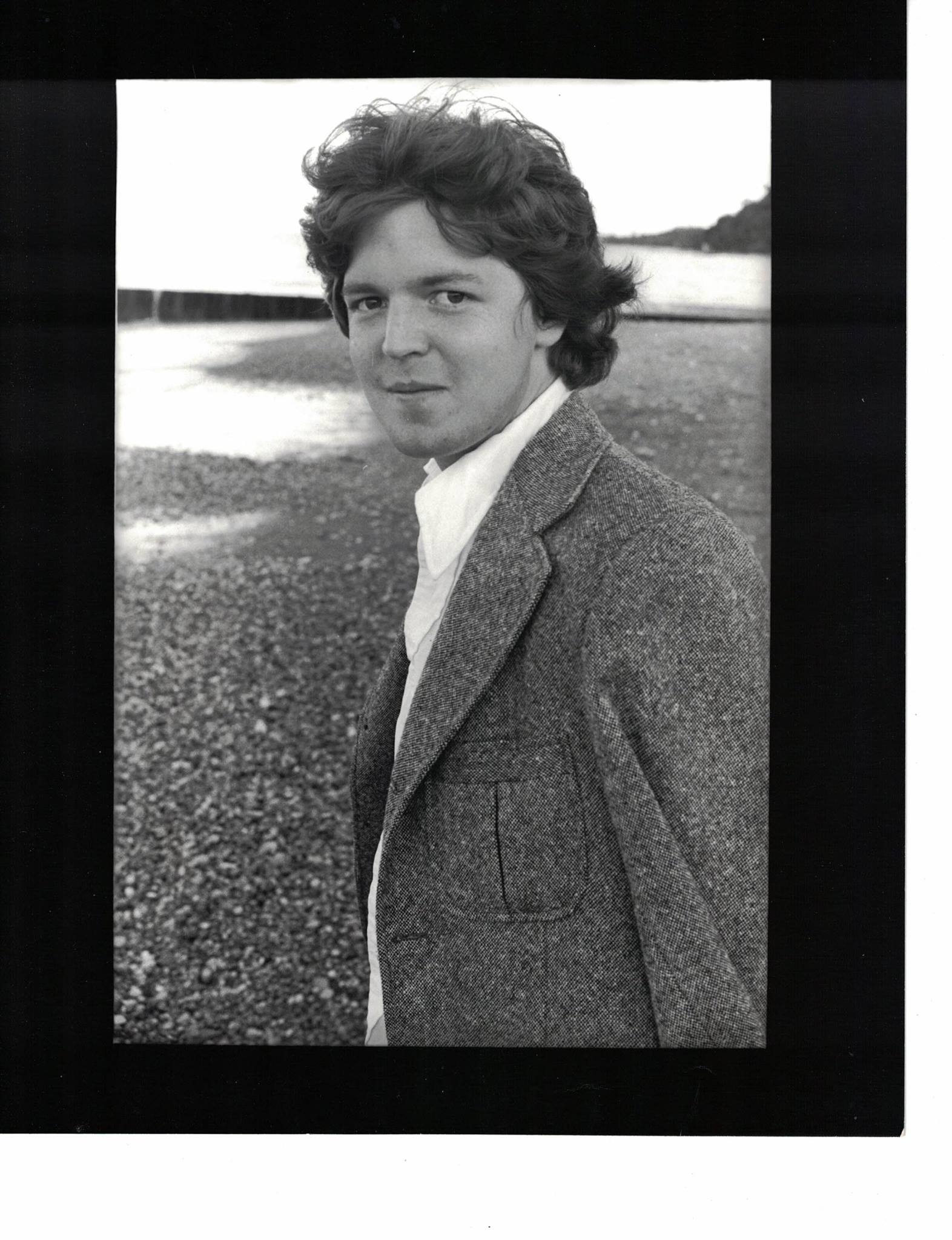 Dem then, GOP now. But still a classic liberal, and always the same guy.
7. Demonstrator, anti-Vietnam war movement. Several marches, demonstrations, including Moratorium in D.C. Demonstrated against POTUS candidate George C. Wallace.
8. Wrote "Soul City: A Dream--Will it come true?" feature for DUDC, March 1974. Interviewed among others Floyd McKissick, one of founders of Soul City, the first model black city in America.
9. Aide, Sen. Gaylord Nelson (Wis.-D) (1974-1975, parts of 1976) Spearheaded demonstration project passed in Congress in preventative health care for Menominee Indian tribes in Wisconsin.
10. Worked for Lawyers Committee Under CIvil Rights suing VA furniture makers under Title VII. Class action suit. Covington & Burling.
11. Worked off and on but actively for 2 years helping probe possible violations of Voting Rights Act by large Ohio city. Department of Justice/Legal Aid Society.
12. Awarded 1-year poverty law fellowship in Toledo, Ohio. Turned down to move back to DC.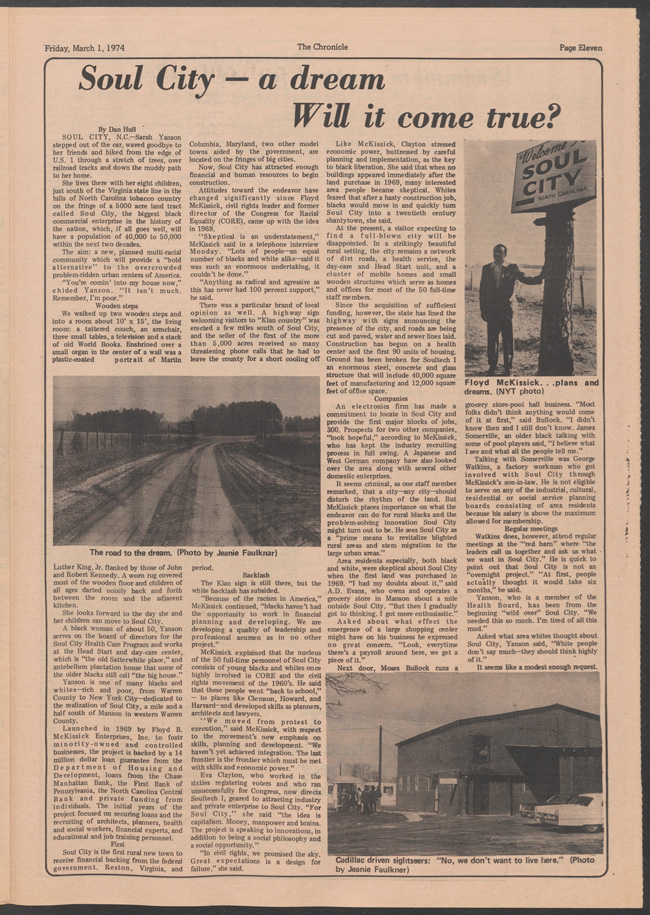 14. Two of three law review articles on racial discrimination under Constitution. Zoning and Voting.
15. Two feature articles appearing in major paper Sunday magazine. First on zoning in a small Ohio River town, New Richmond, Ohio. Second about a 1st Amendment and zoning crusader named John Coyne in rural Clermont County, Ohio.
16. Aide, Representative Bill Gradison (R-Ohio) 1978-1981. Health. Energy. Natural Resources,
17. Treasurer 2003 State Assembly Campaign for CA Democrat, Karen Heumann.
18. Chief San Diego Fundraiser and (briefly) CA Convention Delegate. Wesley Clark for President (2003-2004)
19. Board of Directors, North San Diego County Democrats (2002-2012)
20. Hillary Clinton for President, 2008, 2016.
21. Co-Founded (with Peter B. Friedman) One Night/One Person Winter Homeless Program in Northern America & Europe 2015.
Posted by JD Hull. Permalink | Comments (0)
September 05, 2018
Rule 8 is Think Like the Client--Help Control Costs. The 2006 Explanatory Note for Rule 8--we reluctantly decided that an Advisory Committee Notes regime was a bit grandiose--begins this way:
Ask an associate lawyer or paralegal what a "profit" is. You will get two kinds of answers. Both answers are "correct" but neither of them helps anyone in your firm think like the client. The answers will be something like this. (1) "A profit is money remaining after deducting costs from receipts." This is the correct young transactional/tax lawyer answer. Or (2) "it's money left over at the end of the hunt." This is the correct fire-breathing young litigator answer.

The right answer?

A profit is a reward for being efficient. And until a lawyer, paralegal or staffer gets that, she or he will never know how a client--or a law firm partner--thinks.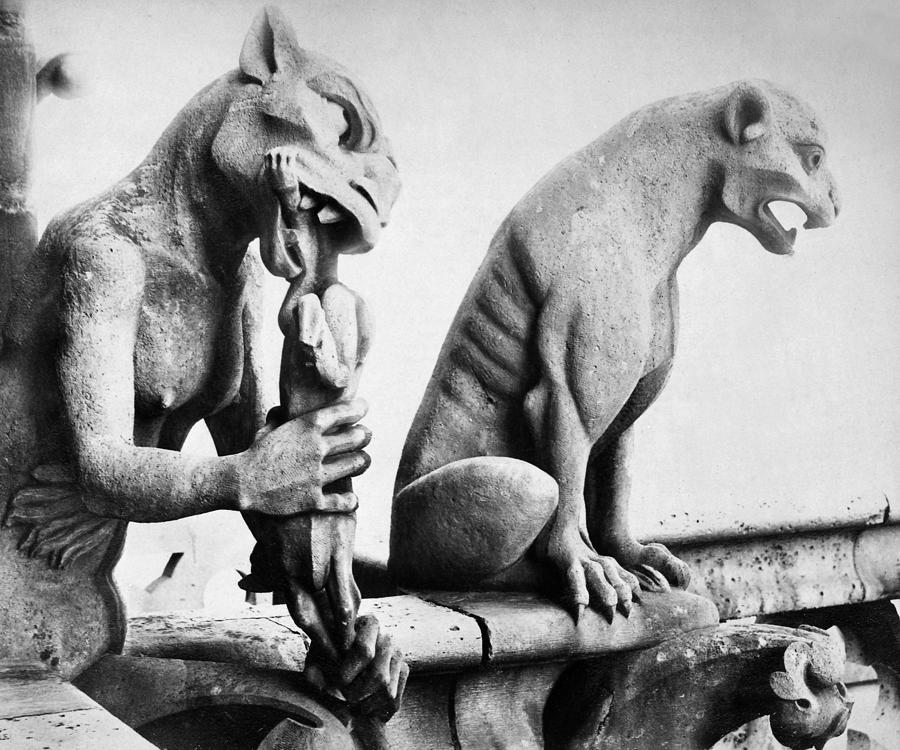 Posted by JD Hull. Permalink | Comments (0)
Read Paul Fussell's 1983 book "Class: A Guide through the American Status System." No finer, funnier or painfully accurate book on the subject. Fussell was a Penn professor, WWII combat veteran and (gulp) WASP's WASP. Read it at your peril. It might bum you out.
Posted by JD Hull. Permalink | Comments (0)
September 03, 2018
Here is the complete text of a circa-1595 comedy by Shakespeare, Love's Labour's Lost. You can read it aloud--or, even better, act it out. First performed before Queen Elizabeth at her Court in 1597 (as "Loues Labors Loſt"), it was likely written for performance before culturally-literate law students and barristers-in-training. The notion was that such well-rounded humans would appreciate its sophistication and wit at the Inns of Court in still over-percolating Legal London. And, most certainly, it was performed at Gray's Inn, where Elizabeth was the "patron". Interestingly, the play begins with a vow by several men to forswear pleasures of the flesh and the company of fast women during a three-year period of study and reflection. And to "train our intellects to vain delight".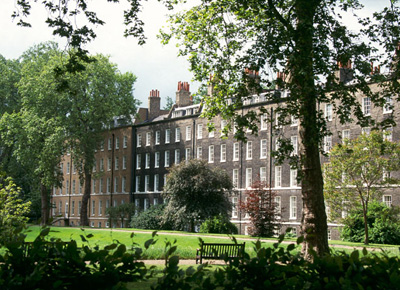 Posted by JD Hull. Permalink | Comments (0)
A man with his belly full of the classics is an enemy of the human race.
— Henry Miller, Tropic of Cancer (1934)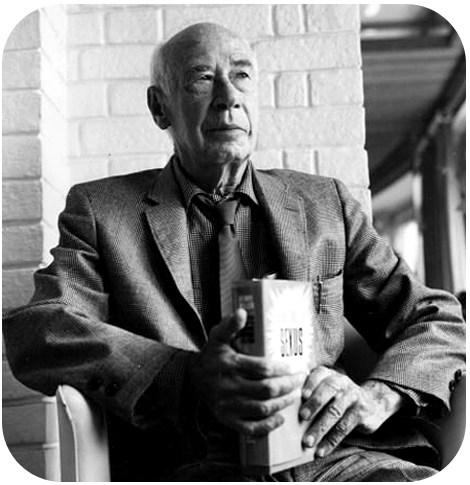 Posted by JD Hull. Permalink | Comments (0)
Why don't people like Unions?
Good question.
In my first factory job in the 1970s one summer—at Keebler's—I was a member of the union. Closed shop. On a Friday afternoon of my 3rd week I was asked by a union person in his official capacity to stop working so hard because I was completing 56 skids in a day and the average was 45. This, he said, made other workers look bad.
Posted by JD Hull. Permalink | Comments (0)
September 01, 2018
I think free word choice—knowing that we are not constrained—goes to human consciousness itself.
Put another way, if Speech (and I mean ANY speech) is blocked off to us, just knowing that limits us. It limits our ability to fully think.
Posted by JD Hull. Permalink | Comments (0)
The most civilized nations of modern Europe issued from the woods of Germany; in the rude institutions of those Barbarians we [received] the original principles of our present laws and manners.

--Edward Gibbon, The Decline and Fall of the Roman Empire, Chapter IX (1782)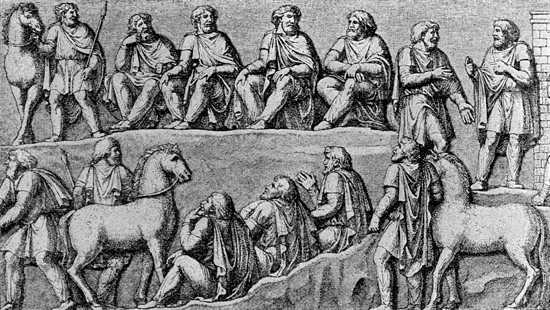 Posted by JD Hull. Permalink | Comments (0)
August 31, 2018
It's #FreeSpeechFriday
Forget about "elevating" Speech.
That turned into Tyranny.
Expand Speech first. Elevate Speech later.
Get off your knees. Please.
Posted by JD Hull. Permalink | Comments (0)
August 30, 2018
There is no joy except in creation. There are no living beings but those who create. All the rest are shadows, hovering over the earth, strangers to life. All the joys of life are the joys of creation: love, genius, action...

--Romain Rolland (1866-1944), Nobel Prize winner, in "Lightning Strikes Christophe".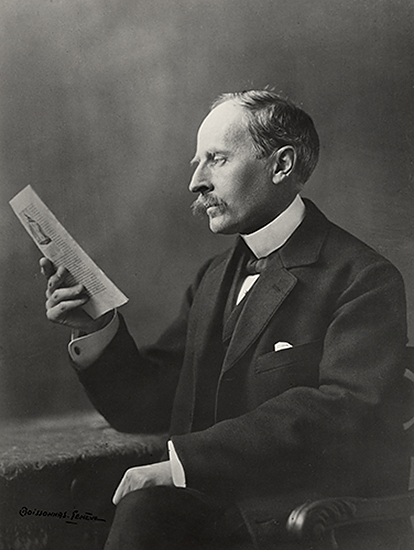 Posted by Holden Oliver (Kitzbühel Desk). Permalink | Comments (0)
New Orleans-based Gene Dwyer is a gifted writer who deserves to be a household name. And I'm going to try to help him do that. You can you help in this crusade by buying and reading "She Walks on Gilded Splinters." From Dwyer's website:
Marie Laveau of New Orleans is recognized as one of the most influential women of 19th Century North America. The life and legend of this Voodoo Priestess has been clouded in mystery. Her followers in the American South witnessed her supernatural powers of healing and casting spells prior to the Civil War and then during Reconstruction. Her legend, including her immortality, is even stronger and more complex. Thousands come to her New Orleans mausoleum every year to ask favors and pay homage.

"She Walks On Gilded Splinters" is the never before told story of the life and legend of Marie Laveau. Explore 16th Century Africa and New Orleans. with a riveting opening chapter in Selma, Alabama on March 7, 1965, a watershed day in the American Civil Rights movement. The novel is a unique, intricate murder mystery following retribution for the sins of past generations set against the history and consequences of the slave trade.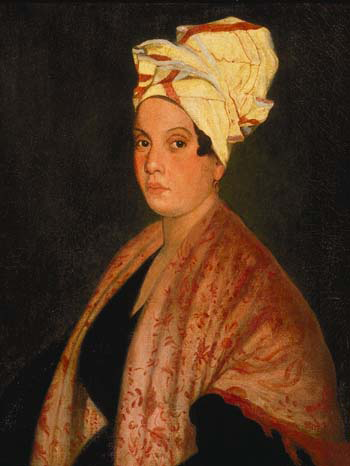 Posted by JD Hull. Permalink | Comments (0)
August 27, 2018
Clients 99.5% of the time are not paying you to be perfect. Clients don't want perfect. In the rare instances they do want perfect, they will let you know. So clients want excellent. Be excellent, not perfect. See, e.g., "Rule 10: Be Accurate, Thorough and Timely--But Not Perfect" of our world-famous and irritating but life-changing 12 Rules of Client Service.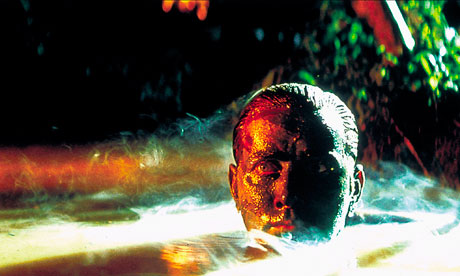 Perfectionism: The horror, the horror. Above: Martin Sheen in Apocalypse Now (photo: Miramax).
Posted by JD Hull. Permalink | Comments (0)
August 26, 2018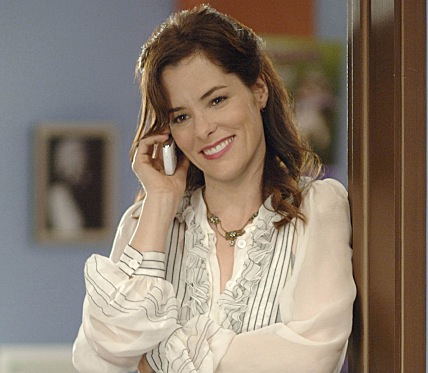 Posted by JD Hull. Permalink | Comments (0)
August 25, 2018
Americans, like juries, are not dumb; they will always surprise you.
Impeachment attempts by those who wanted to impeach the POTUS even before Inauguration Day will continue to make the Left look as petty, prissy & small as it really is.
An impeachment bid? It helps the Right.
Posted by JD Hull. Permalink | Comments (0)
August 24, 2018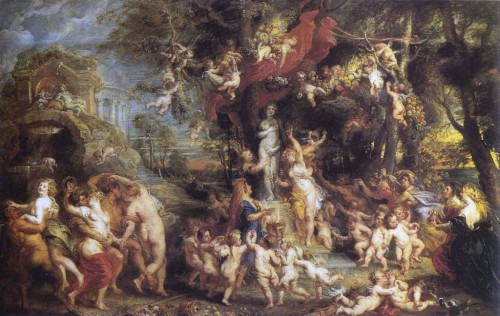 The Feast of Venus, circa 1630-1640. By Peter Paul Rubens (1577-1640). Flemish Baroque Painter, Diplomat, Charmer, Father, Husband, Savvy Businessman, Fluent in Six Languages, Workaholic, Renaissance Man. Raised in Cologne and Antwerp.
Posted by JD Hull. Permalink | Comments (0)
Two days ago our hero Partner Emeritus commented in response to an Above the Law piece on summer associate offers:
It's a sad world we live in where kids think they are having the time of their lives by raising bottles of Korbel champagne adorned with cheap sparklers. The video [in the ATL article] is proof that law firms are not celebrating like it was 1984 or 2007 for that matter.

When I was a younger partner, I would take a handful of summer associates to Smith & Wollensky or Peter Luger's in Brooklyn and then party hard at the VIP lounge at Flash Dancers ('80s) or Scores ('90s). Most of the summer associates were caught in compromising positions during these soirees. For example, I had many Polaroids with SAs who were photographed in salacious positions with female entertainers. I even photographed a few doing lines of coke in the VIP lounge.

Once the summer associates became associates I would bring them into my office and give them copies of the Polaroids and remind them that I was the last person they ever wanted to cross if they wanted to keep their job or law license. Most of these folks became partners, which proves my methods for inspiring peak performance were quite effective.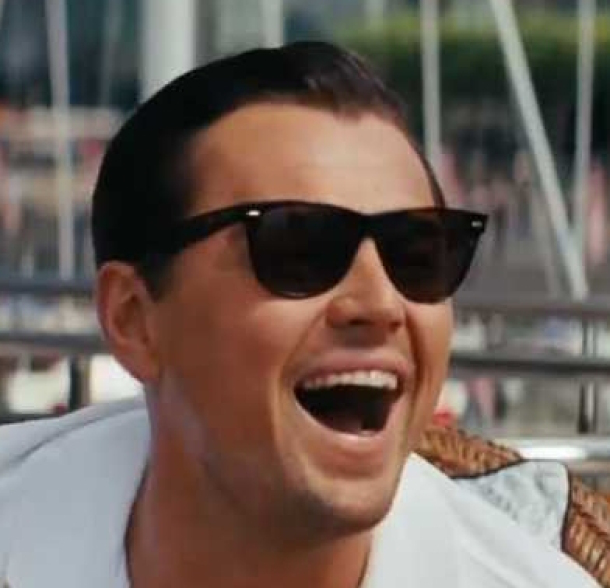 Photo taken in 1986 believed to be PE instructing summer associates.
Posted by Holden Oliver (Kitzbühel Desk). Permalink | Comments (1)