February 18, 2018
A wise man's country is the world.

--Aristippus (435-360 BC), as quoted by Diogenes Laertius, Lives of Eminent Philosphers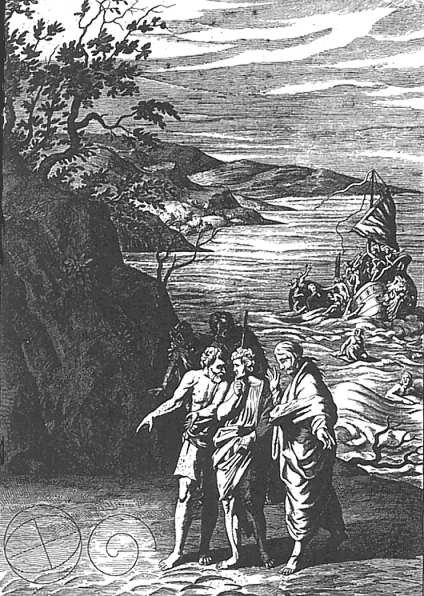 "There is hope. I see traces of men." Aristippus was shipwrecked on the island of Rhodes in the Aegean Sea. He and his fellow survivors did not know where they were or if the island was inhabited. But he sees geometric figures drawn on the sand.
Posted by Holden Oliver (Kitzbühel Desk). Permalink | Comments (0)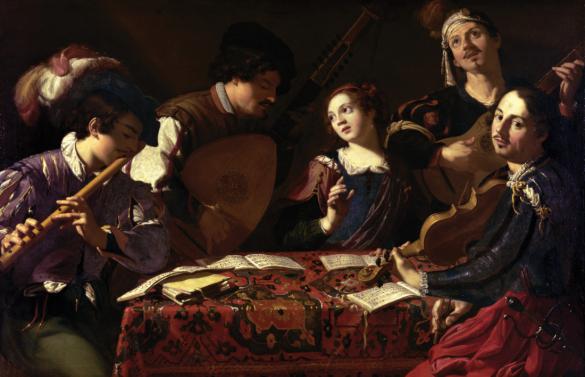 The Concert, c. 1620, Theodoor Rombouts (Flemish, 1597-1637)
Posted by JD Hull. Permalink | Comments (0)
February 17, 2018
Quality has a yen for resurrection. It endures; it repeats. Quality has great legs.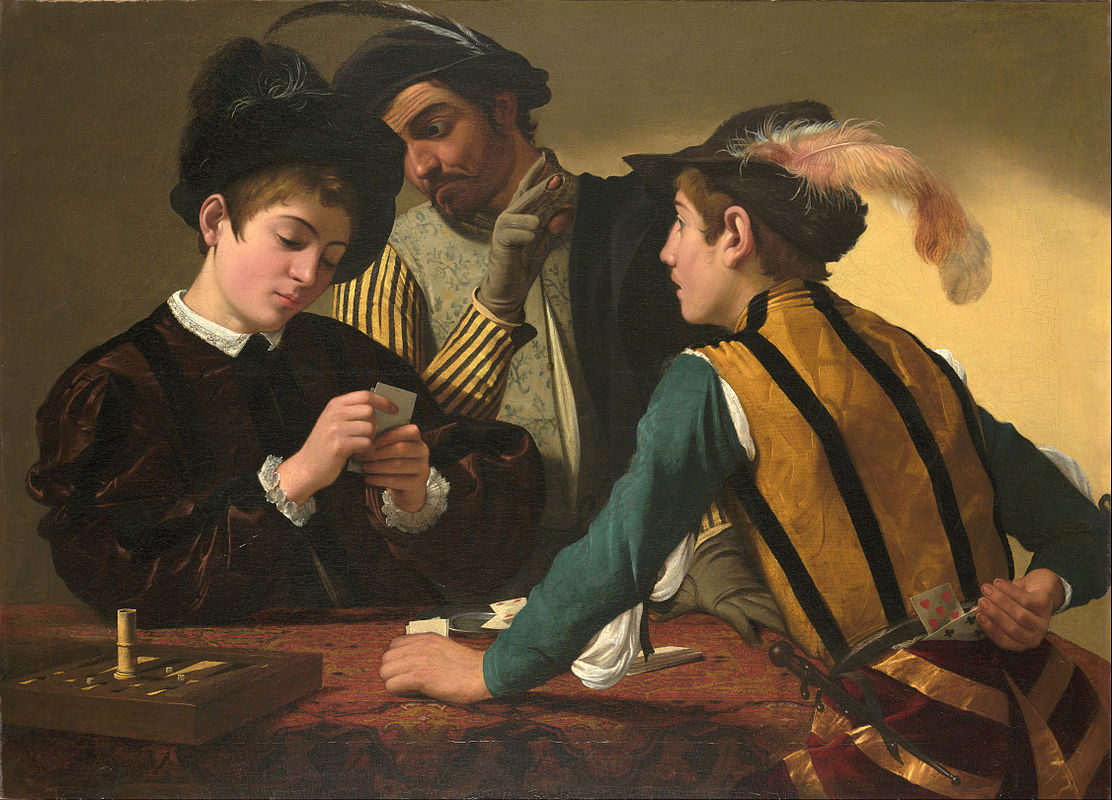 Above: Caravaggio's "The Cardsharps", c. 1594. Oil on canvas, 37" x 52". Kimbell Art Museum, Fort Worth, TX.
Posted by JD Hull. Permalink | Comments (0)
Mother died and left me reckless,
Daddy died and left me wild.
No, I'm not good lookin',
I'm some sweet woman's angel child.

--William Samuel McTier (1898–1959)
Posted by JD Hull. Permalink | Comments (0)
February 16, 2018
"O Rare Ben Jonson"

--Words on the gravesite slab of English dramatist and poet Ben Jonson (1572-1637) in Westminster Abbey. Jonson was buried upright, i.e., standing up.
Twenty-five years ago, before The Great Neutering, before attorney gene pools started to dilute, when service professionals were well-rounded, if not classically-educated Renaissance people, when it meant a great deal to be a lawyer, and indeed to be a man, we had practitioners like Partner Emeritus. That is the nom de plume of a retired Brahmin New York City lawyer with an impressive following on the internet and who many culturally illiterate people--i.e., most lawyers these days (sorry, but that is the perfect truth)--apparently simply do not get. He's intimidating and spine-tinglingly scary to the maggotry, a comedic genius and WASP Yoda to the urbane.
Whoever he is--I sense pretty much everything about the way he portrays himself is authentic save his real name--PE has been there and done that (his legal breadth intrigues me) in upper-tier corporate law. And, perhaps, in life. Like me, he is an accomplished and unapologetic philanderer, and occasional cad. Color him, too, a bit picaresque. He is well-read and well-traveled. Two bonus CV points. He acquired and trained two Afghan show hounds. He even played polo, for fuck's sake. And like me, he does love the law, and this profession, which he worries about. At this stage, Partner Emeritus is also an accomplished satirist. A Lenny Bruce for those with Mayflower DNA. Governor-for-Life of Upper Caucasia. A Dean Swift for modern Manhattan.
PE entertains in two distinct, interchanging, modes. You commend his taste, and judgment, when he shifts gears from Satirist to Learned Critic. (You don't know when that is? That shifting? Your problem. Start getting a real education by attending the theatre, visiting art museums and reading Tom Jones, Candide, Huckleberry Finn. Devour Miller, Kubrick, Pope, Orwell. Behold Nabokov, Heller, Huxley, Mencken. View Pieter Bruegel. Listen to Gilbert & Sullivan. Will take years--but it's worth it.) Ninety-five percent of the time--no, I do not agree with his every assessment--he's right on the money about people, places and things. His writing is art. Class art. Informed art. Funny art. He disturbs, and brilliantly.
PE's best gift? It is his instinct for detecting two related (I think) qualities he detests: hypocrisy and mediocrity.
Watch him each week expose the growing cadre of bad actors--i.e., twinkies, teacups, imposters, poseurs, plagiarists, thieves--who regularly shill on ATL's eclectic pages, Partner Emeritus has an instinct for the jugular that is dead-on, lightning fast and funny. If you think--and not merely react--you will learn something. You may feel a bit uncomfortable about how you stack up in this universe. But you should learn something about yourself. Otherwise, try not to blow a tube, or pull a hamstring, laughing.
You can read him and howl along with me most weekdays to his comments to certain articles at Above the Law. For many people, PE is the best thing about David Lat's celebrated and storied website. Excerpts from one wistful ATL comment last week:
Prior to owning a 1981 DeLorean DMC 12, I owned a gorgeous 1979 BMW M1. One Saturday, while my wife was with her family at Martha's Vineyard, I took my car into the city and decided to visit the old Copacabana. There, I met a woman named "Sophia." We drank Dom Perignon and danced Salsa and some disco (I was a maven on the dance floor and could have given John Travolta a run for his money during his "Saturday Night Fever" phase). During that evening, Sophia slipped a drug into my drink. The next thing I know, I woke up with a throbbing headache and my lower body was in pain. Apparently, I had crashed my vehicle into a divider on the Long Island Expressway and Sophia was unconscious next to me. A police cruiser drove by and stopped. I explained to the officer that I had been drugged by the latina woman next to me and that she had robbed me (I made sure to place my wallet in her purse before she regained consciousness).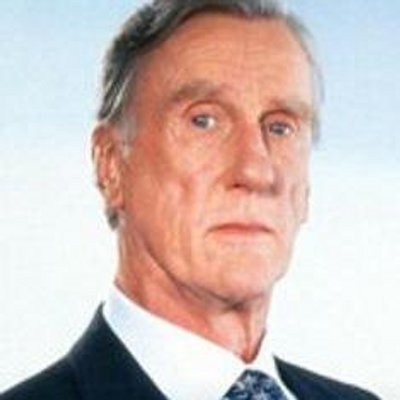 Posted by JD Hull. Permalink | Comments (0)
February 15, 2018
It's 2-15-18.
America has been in business for 229 years. Since 1789.
Which Free Speech & Expression are we allowed to use today?
Who has The List?
Posted by JD Hull. Permalink | Comments (0)
As with London, and with the County of Suffolk to the north, from where my mother's family came to Massachusetts via Ipswich 384 years ago, I am completely and hopelessly in love with Kent, mainly the eastern ("Men of Kent") part. The County of Kent is the southeastern doorway to the British Isles--it has even more history, legend and myth than London. Lots, and maybe even too much, has happened here during the past 2500 years. Eventually, in 51 BC, Julius Caesar called it Cantium, as home of the Cantiaci. Augustine founded what became the Anglican Church here in about 600 AD. And of course Thomas Becket, Chaucer's "holy blissful martyr", was killed here (Canterbury) in 1170.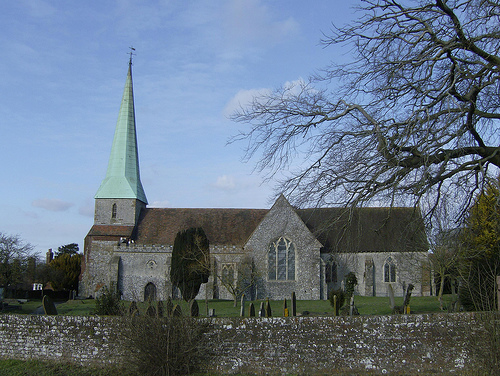 St. John the Baptist, The Street, Barham, Kent
Posted by JD Hull. Permalink | Comments (0)
February 14, 2018
"Romeo and Juliet" from Act III parting scene, 1870, Ford Madox Brown (1821-1893). Oil on canvas, 53 × 37 inches, Delaware Art Museum.
Posted by JD Hull. Permalink | Comments (0)
Poet-dramatist-novelist, gift of America's Industrial Heartland, always a man in full. Pittsburgh's Sam Hazo writes simple, thoughtful and pregnant prose.
This Part of the World, by Pittsburgh's Samuel Hazo.
Posted by JD Hull. Permalink | Comments (0)
February 13, 2018
At Toomebridge
(by Seamus Heaney)
Where the flat water
Came pouring over the weir out of Lough Neagh
As if it had reached an edge of the flat earth
And fallen shining to the continuous
Present of the Bann.
Where the checkpoint used to be.
Where the rebel boy was hanged in '98.
Where negative ions in the open air
Are poetry to me. As once before
The slime and silver of the fattened eel.
from Electric Light, 2001, Farrar, Straus and Giroux
Posted by JD Hull. Permalink | Comments (0)
February 12, 2018
Flag waving
Lowry-loving
Boundry shoving
Cottonmilled...
Bomb-rocked
Unbroken...

--from Carole Houlston's 2004 poem "Manchester"
Manchester, Britain's Second City, is feistier and rawer than London. Imagine another second city, Chicago, only smaller (in population, Manchester's center city is roughly 510,000, and its urban area is 2.6 million). But also a bit tougher. Proud blue collar towns like Cleveland, Pittsburgh and Baltimore also come to mind. No nonsense and shamelessly tough and gritty, Manchester's history in the last 200 years is one of tireless industrial expansion and a hardworking populace. The city was at the center of the Industrial Revolution that started in England in 19th century. Manchester became a major manufacturer worldwide, particularly in textiles, expanding steadily for decades. Manchester even had a school of thought based on free trade and laissez faire economic principles named after it ("Manchester School"), coined by England Prime Minister Benjamin Disraeli. In recent years, Manchester became primarily services-based. This new economy emerged as the fastest growing one in England, as well as one of the fastest growing economies in Europe. Maybe that's why no one in Manchester ever seems to yearn to move to London. Or to any other town. The City has everything--including a tradition of prospering on its own. Gritty Manchester. It's a "mean old town to live in by yourself".


Johnny Winter: Mean Town Blues
Posted by Holden Oliver (Kitzbühel Desk). Permalink | Comments (0)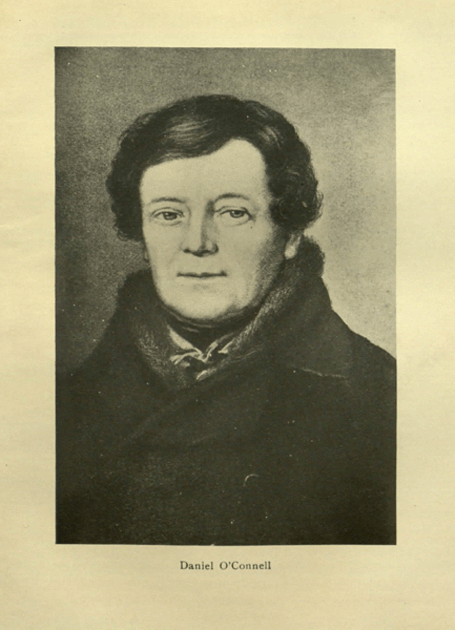 Daniel O'Connell (1775-1847), MP, Lord Mayor of Dublin, "Liberator of Ireland", and trial lawyer's trial lawyer, led a movement that forced the British to pass the Catholic Emancipation Act of 1829, allowing Catholics to become members of the British House of Commons.
He may have done more for Ireland than anyone after him. The English, of course, found him infuriating. O'Connell was at heart a consummate trial lawyer, and by nature both actor and gadfly.
In a set of lectures John L. Stoddard published in 1901, he said of him:
He was a typical Irishman of the best stock--wily, witty, eloquent, emotional and magnetic. His arrival in town was often an occasion for public rejoicing. His clever repartees were passed from lip to lip, until the island shook with laughter.

In court, he sometimes kept the spectators, jury, judge and even the prisoner, alternating between tears and roars of merriment. Celtic to the core, his subtle mind knew every trick peculiar to the Irish character, and he divined instinctively the shrewdest subterfuges of a shifty witness.
Posted by Holden Oliver (Kitzbühel Desk). Permalink | Comments (0)
‪Happy Birthday today to Naval aviator, Vietnam war combat pilot, publisher, Democratic Party activist and my good friend @bob_jellison in San Diego. Thank you for your service, Bob. Thank you for always thinking on your own. ‬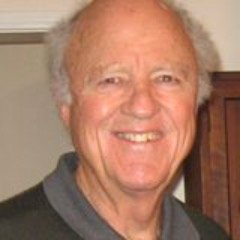 Posted by JD Hull. Permalink | Comments (0)
February 11, 2018
Let's nix professional, corporate and academic wankspeak and start speaking like human beings who value originality in language. Examples of wankspeak: empower, next level, unpack that, core competency and calling garden variety problems "challenges." Get the net, folks. We are starting to sound like Anita Hill or Steve Covey on acid. We can do better.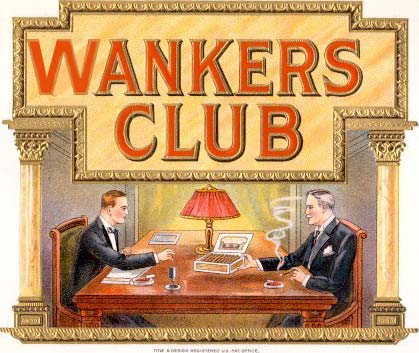 Posted by JD Hull. Permalink | Comments (0)
February 10, 2018
Jacob Riis (1849–1914) was a Danish American reformer, journalist and photographer. He is still famous for his photos of New York City's slums and their uneasy mix of new Americans--especially those taken in Hell's Kitchen and around Five Points. Below in the 1890s is Mulberry "Bend" (then sometimes "Lane") in lower Manhattan and within the Five Points. It's now Mulberry Street, which runs through Chinatown and Little Italy.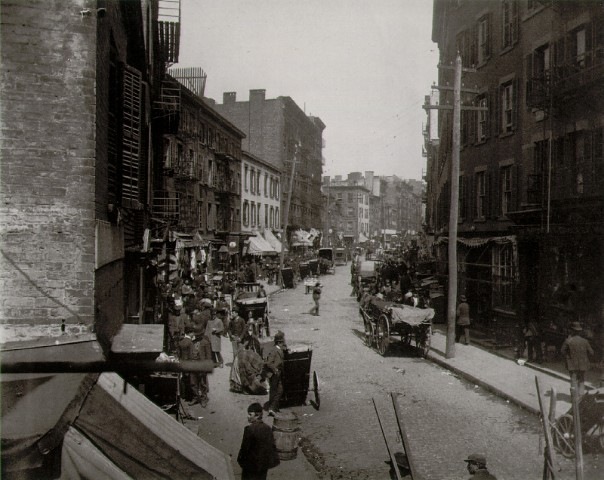 Posted by JD Hull. Permalink | Comments (0)
February 09, 2018
New Orleans-based Gene Dwyer is a gifted writer who deserves to be a household name. From Dwyer's website:
Marie Laveau of New Orleans is recognized as one of the most influential women of 19th Century North America. The life and legend of this Voodoo Priestess has been clouded in mystery. Her followers in the American South witnessed her supernatural powers of healing and casting spells prior to the Civil War and then during Reconstruction. Her legend, including her immortality, is even stronger and more complex. Thousands come to her New Orleans mausoleum every year to ask favors and pay homage.

"She Walks On Gilded Splinters" is the never before told story of the life and legend of Marie Laveau. Explore 16th Century Africa and New Orleans. with a riveting opening chapter in Selma, Alabama on March 7, 1965, a watershed day in the American Civil Rights movement. The novel is a unique, intricate murder mystery following retribution for the sins of past generations set against the history and consequences of the slave trade.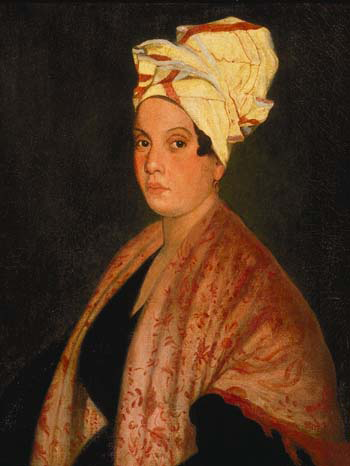 Posted by JD Hull. Permalink | Comments (0)
February 08, 2018
Return of EFGB and the Seven Habits. Lawyers who won't take a stand is a time-honored tradition. Ernie from Glen Burnie, a life-long friend of mine, is not such a creature. It's just his nature. He'll stand up for people who pay him--and people he just met on the subway. You can read Ernie's story. It's about an old parchment he claims was discovered in Alexandria, Virginia, around the same time we both began practicing law in the District. Do see "The Seven Habits of Highly Useless Corporate Lawyers". This is a true story, mostly. So listen up.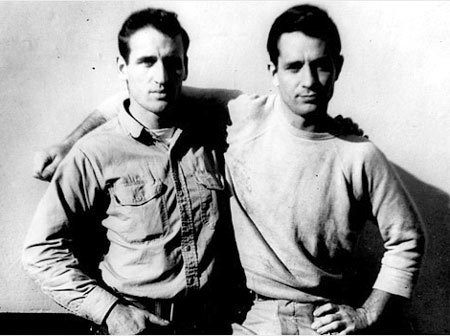 Stand-Up Guys: Ernie, a dead-ringer for 1950s icon Neal Cassady, and the author, during their pre-lawyer years in Washington, D.C.
Posted by JD Hull. Permalink | Comments (0)
February 05, 2018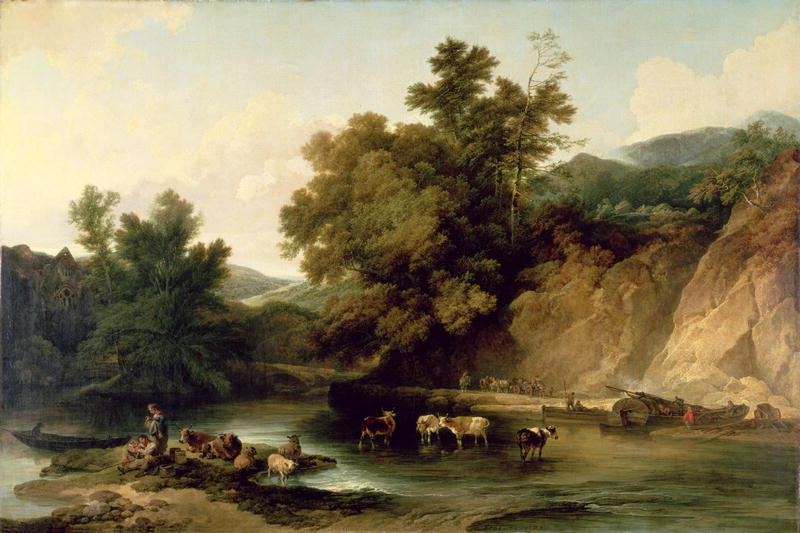 The River Wye at Tintern Abbey, 1805, Philip James Loutherbourg.

Posted by JD Hull. Permalink | Comments (0)
The comparisons between Rome and the U.S. are exciting and instructive. --What About Clients?

When in Rome, do as many Romans as you possibly can. --Hugh Grant
Rome. I don't like working here--charitably put, work-life balance is totally out of balance in some regions of Italy--but I love being in Rome. You can walk in this city. You can frolic in it. You can play all day long in and around the The Forum and Palatine Hill, where antiquities are still being found. There's a guy with a shop at the Piazza Navona--2000 years ago the Piazza was a Roman circus (i.e., track) you can still see if you try--who sells me these unique old prints, beautifully framed, that I bought for my father in Cincinnati. I go to that shop on every trip. The Tiber River is still gorgeous and, like the Seine in Paris, steeped in history, and a bit melancholy and mysterious. Lots happened here--maybe too much--and it's as if the river can remember it all.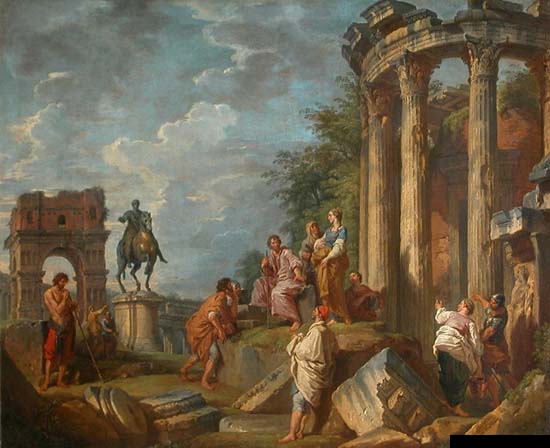 Pannini (1743): Ruins, Chiostre, Statue of Marc-Aurèle
In the West, our strongest ideas and institutions, including what became English law, were conceived or preserved by Rome. The increasingly-made comparisons between Rome and the U.S.--no, they are certainly not new--are still exciting and instructive. The Romans were competent if grandiose empire builders who borrowed their best ideas and forms from a previously dominant Greece, while America's cultural debt is chiefly to western Europe. Like Rome, America tended to overextend itself in all spheres. Like Rome, America was globally aggressive. (Other peoples resented it.) You get the idea.
But you can't see, experience and "do" Rome on one trip--same thing with New York, London or Paris--and you shouldn't try. Our advice: do several trips, and "live in it" each and every visit, taking small bites. And spend your trip with anyone but those from the same nation and culture as your own. If you go there with Americans, break out of that bubble. Politely say goodbye--and disappear into the streets on your own.
Original post: September 15, 2013
Posted by JD Hull. Permalink | Comments (0)
February 04, 2018
Nobody will ever deprive the American people of the right to vote except the American people themselves and the only way they could do this is by not voting.

-- FDR (1882-1945) Patrician, Activist, Charmer, Leader, Bad-Ass.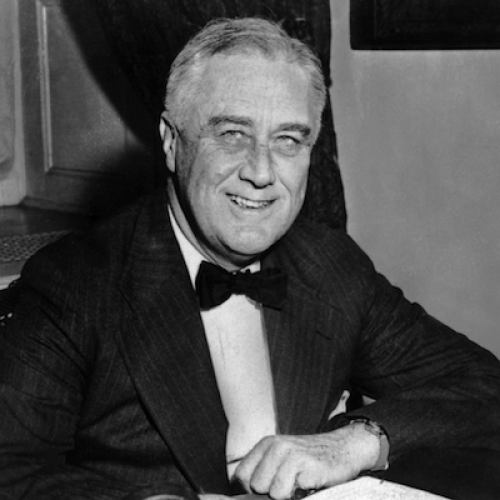 Posted by JD Hull. Permalink | Comments (0)
February 02, 2018
Put aside your party line, your ideology and anything else you use to avoid thinking on your own. School teacher, seamstress, businesswoman, community organizer, Chicago girl and Ireland-born, Mary Harris "Mother Jones" (1837-1930) had big ones. What a resume, most of it from after she turned 50.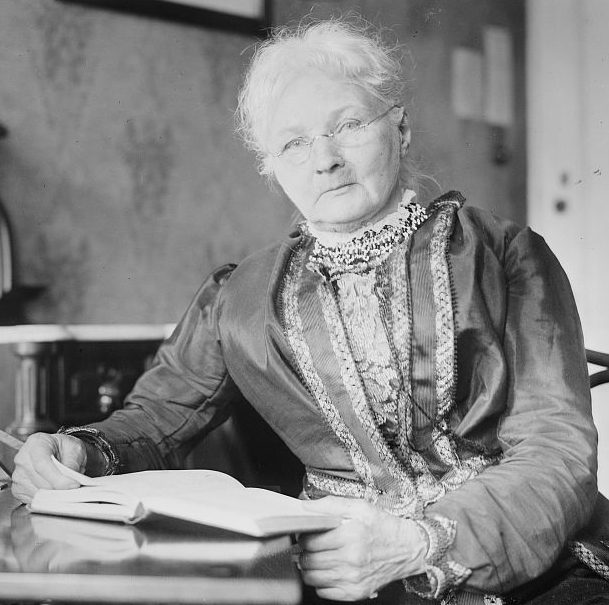 Denounced on the U.S. Senate floor as the "grandmother of all agitators."
Posted by JD Hull. Permalink | Comments (0)
February 01, 2018
Beckwith was a huge influence on how we could make changes in everyone's lawyering--and the idea here is really his, not ours.
Thank you, Harry Beckwith. At this blog, we never set out to be customer/client service experts or gurus. And indeed we are not experts or gurus on the subject. Based on actual experience lawyering, we wrote and published 12 Rules of Client Service in installments during a six-month period starting in October 2005. The 12 rules do seem to have legs. We are flattered. In whole or in part, they regularly appear in publications and sites for lawyers and non-lawyers (e.g., accounting and real estate). Some folks who discuss, quote or mention them like all 12 rules. Others like one or two in particular.
Our favorite? It's Rule Four: Deliver Legal Work That Change the Way Clients Think About Lawyers. It's our "Harry Beckwith" rule. Harry Beckwith, who first ignited the thinking of many professional services thinkers in "Selling the Invisible", was a huge influence on how we could make changes in everyone's lawyering--and the idea here is really his, not ours. An excerpt from Rule 4:
Why try "to exceed expectations" when the overall lawyer standard is perceived as low to mediocre? If your clients are all Fortune 500 stand-outs, and the GCs' seem to love you and your firm, is that because your service delivery is so good--or because other lawyers they use are so "bad" on service? Why have a low standard, or one that merely makes you look incrementally more responsive and on top of things than the boutique on the next floor up? Why not overhaul and re-create the whole game?

If you read the better writers on selling and delivering services, like Harry Beckwith in Selling The Invisible, you pick up on this simple idea: Rather than under-promise/over-deliver, why not change the way people think of lawyers generally and what they can expect from them generally? Get good clients--those clients you like and want--to keep coming back to you by communicating in all aspects of your work that you care deeply about your lawyering for them, you want to serve their interests on an ongoing basis and that it's a privilege to be their lawyer. Show them you fit no lawyer mold.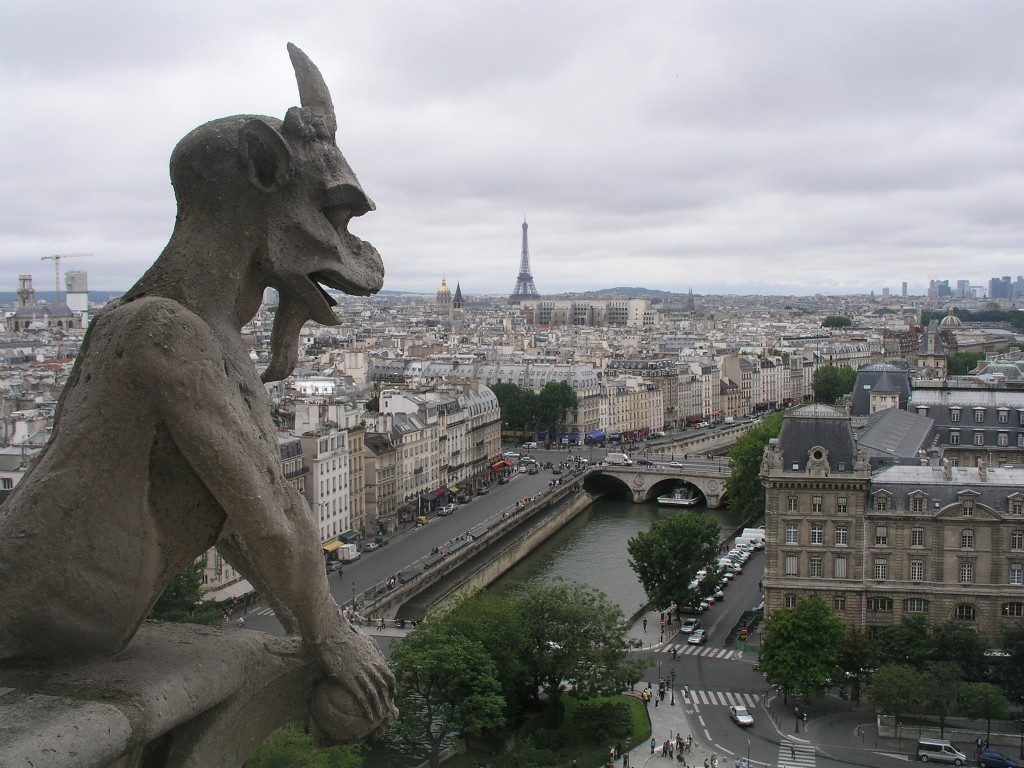 Posted by JD Hull. Permalink | Comments (0)
January 31, 2018
Below is a 24-hour Poll I pinned up today on Twitter. So far "Traditional Masculinity" is the top choice. But I'd disagree.
"Culturally-speaking, what part of American Life has the Trump Presidency so far helped the most?
Free Speech/Expression?
Traditional Family?
Traditional Masculinity?
Conservatism Generally?"
Posted by JD Hull. Permalink | Comments (0)
January 30, 2018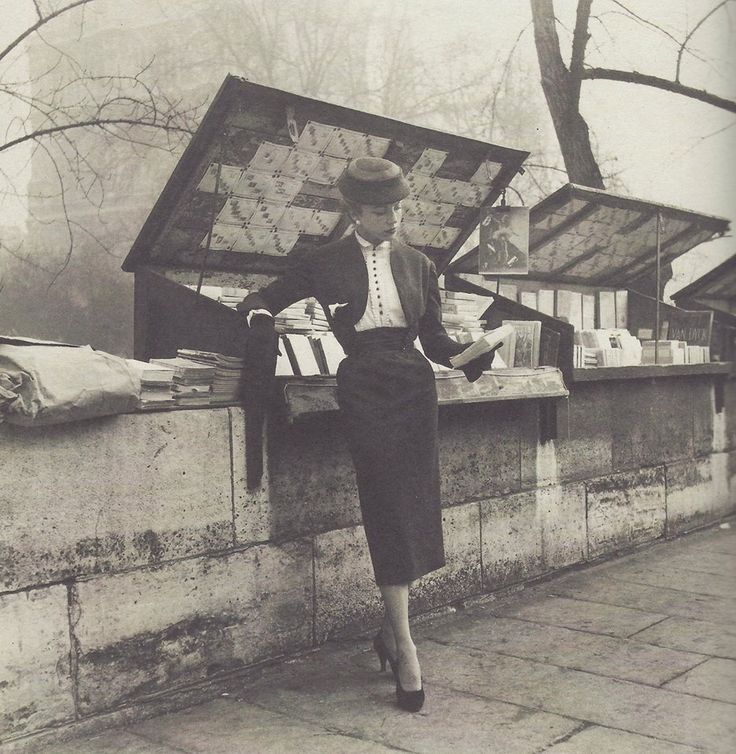 Let's bring back Real Women. Women with Everything. Isn't it time?
Posted by JD Hull. Permalink | Comments (0)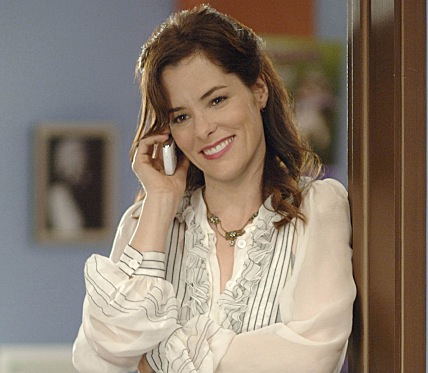 Posted by JD Hull. Permalink | Comments (0)
January 28, 2018
No passion in the world is equal to the passion to alter someone else's draft.

--H.G. Wells (1866-1946)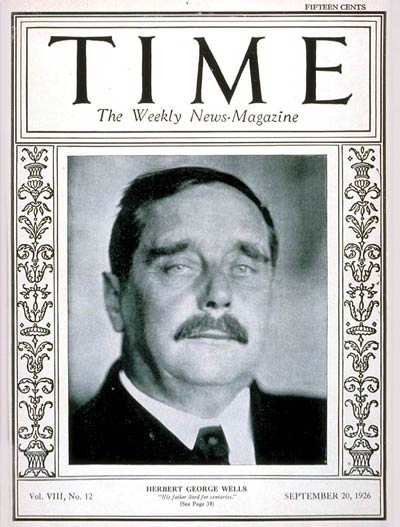 Posted by JD Hull. Permalink | Comments (0)
January 27, 2018
There is no joy except in creation. There are no living beings but those who create. All the rest are shadows, hovering over the earth, strangers to life. All the joys of life are the joys of creation: love, genius, action...

--Romain Rolland (1866-1944), Nobel Prize winner, in "Lightning Strikes Christophe".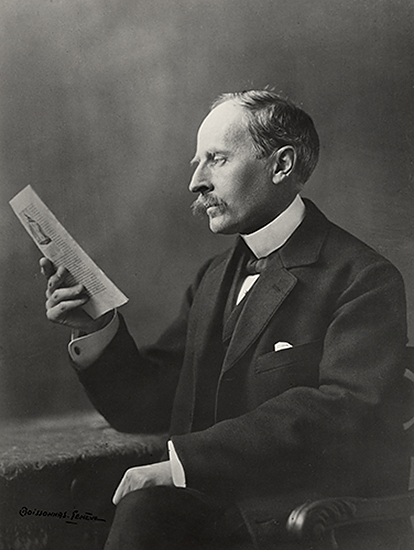 Posted by Holden Oliver (Kitzbühel Desk). Permalink | Comments (0)
O God, I could be bounded in a nutshell, and count myself a king of infinite space.

- Hamlet Act 2, Scene 2.
El Aleph is a story by Argentina's hands-down dean of letters Jorges Luis Borges first published in 1945 and revised from time to time through 1974. It is the most amazing short story I've ever read. I and two other--and far more gifted--Indian Hill (Ohio) High School classmates read El Aleph in Spanish in 1970 with Mr. Fogle in our "Spanish V" class. In the story The Aleph is a point in space that subsumes all other points in space and shows you all that is occurring in the Universe at once. Is that far-in or what?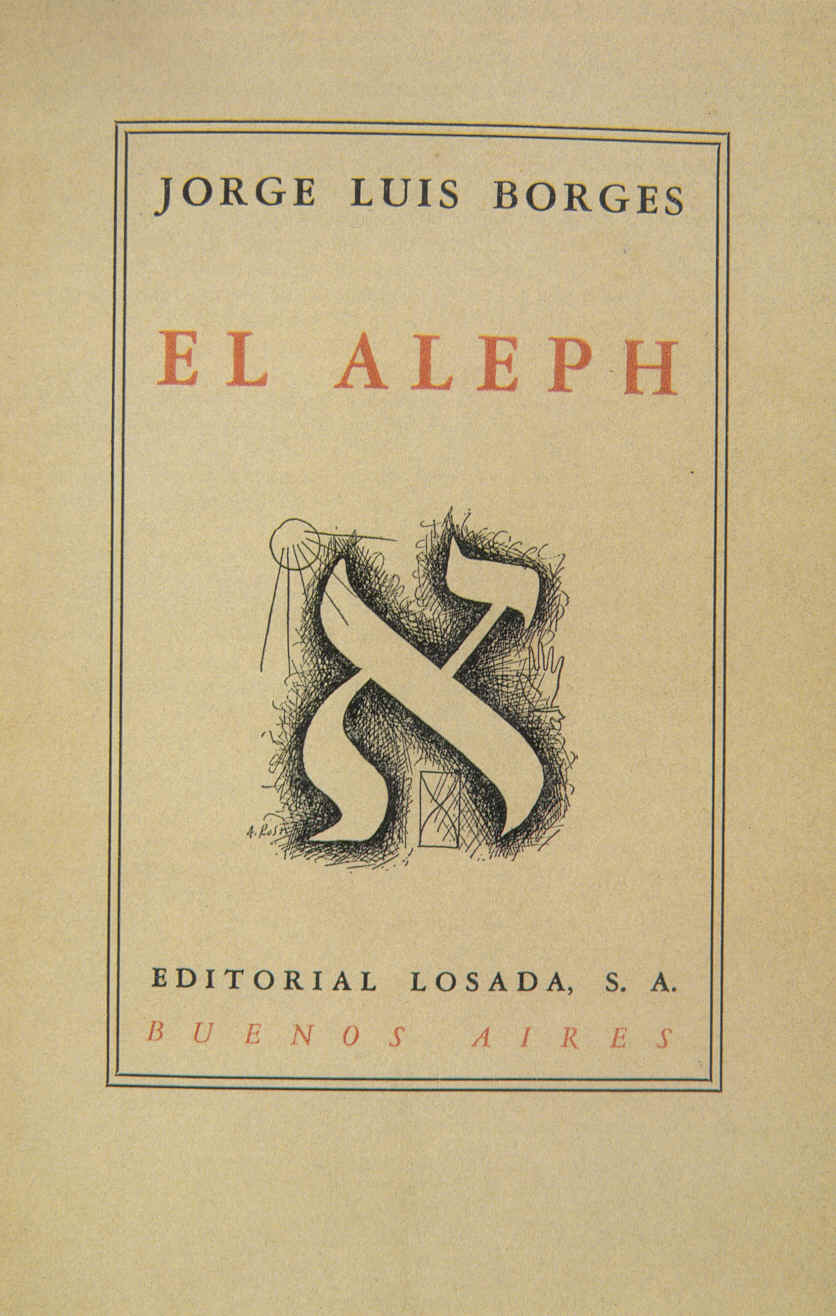 "Este palacio es fábrica de los dioses, pensé primeramente. Exploré los inhabitados recintos y corregí: Los dioses que lo edificaron han muerto. Noté sus peculiaridades y dije: Los dioses que lo edificaron estaban locos. Lo djie, bien lo sé, con una incomprensible reprobación que era casi un remordimiento, con más horror intelectual que miedo sensible."

Posted by JD Hull. Permalink | Comments (0)
January 26, 2018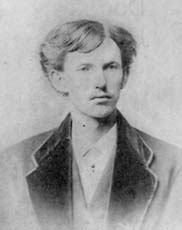 John Henry Holliday in 1872.
He despised and, whenever he could, preferred to engage bullies. He had a knee-jerk resistance to following the crowd in anything. He thought for himself. He argued with everyone (including the Earp family) about everything. He liked underdogs.
The Gift of Loyalty, Being There, Standing Up. Nine-tenths of what has been said or written about him, including Hollywood's versions, is hype. Doc Holliday wasn't a great shot, or anything like an artist with that big knife he carried around with him. He didn't kill scores of people. He wasn't drunk 24/7. Not everyone hated or feared him. Yes, he could be as mean as a snake.
But when you clear away the Old West myth, he's still a tragic but compelling and often admirable loner. Biographers do agree that John Henry Holliday (1851-1887) was fiercely loyal and could be counted on to stand up for friends--not just the Earp family--and a few others who might need a bold if flamboyant assist.
To be honest, I wish more lawyers--too many of us are cowards and wimps--had Doc's pluck, his ever-readiness to "be there" for you and his fine madness. Most of us? We don't come by strong character, action or decisiveness naturally. Face it: as a group, we are barely above-average Dorks. We've raised holding back, and even common cowardice, to an acceptable art.
Like many lawyers-to-be, Doc grew up comfortably and was well-educated. He was raised in Georgia as a popular and bright youngster in a close, supportive and fairly well-to-do family in which, among other things, he learned about card games. His clan's fortunes were badly set back, but not destroyed, by the Civil War and the subsequent occupation by Union soldiers.
He started out adulthood in 1872 as a 20-year-old graduate of a fine dental surgery school in Philadelphia. But Holliday caught Tuberculosis from either his stepmother or a patient in his first year of practice. At 22, still the beginning of his dental practice, he was diagnosed as "consumptive"--and told that he had but a few months to live.
This shock, coupled with what some researchers believe was a star-crossed love affair with a first cousin, made Holliday move West for his health. Dentistry quickly took a back seat to gambling. He became a binge-drinking rogue with only a few friends, professional gambler, resident wit, expert womanizer and prankster who was somehow menacing to most of the people he met, even at a weight of around 140 pounds. Although he was clearly an emotional and in some respects volatile man, most reports have him clear-headed, quick-witted and even strangely calm in violent situations the moment they erupted.
This was a bit of Social Critic and Philosopher in Holliday, too. I've read three bios now on Doc. (The best, to me, is Doc Holliday by Gary L. Roberts, John Wiley & Sons (2006)). Even when drunk, or when he had lost his temper (both happened a lot), Holliday was clear-eyed in a number of respects.
He wouldn't beat up on weaklings. He despised--and, whenever he could, preferred to engage--straight-up bullies and self-hating creeps. He had a knee-jerk resistance to following the crowd in anything. He thought for himself; he argued with everyone (including the Earp family) about everything. He liked underdogs. And even when cornered--or was about to be hauled off to jail (also happened a lot)--he had something caustic and often incredibly funny to say.
Tuberculosis did finally claim him in Colorado at age 37. There is no end to the lore about what he did and said, or to the speculation about what made him tick in those last 15 years. But even the most sober historical sources on Holliday do agree on one thing. Over and over again, if a friend--in a few cases a total stranger--needed him, he was there immediately.
Instinctive. No hesitation. An angry yet adept explosion. None of the pathetic step-by-step "analysis" of modern white collars that should shame us deeply every time and never does. You didn't need to ask Doc to help. Doc didn't need to think about it.
He just did it.
Posted by JD Hull. Permalink | Comments (0)
Paris was a bold man who presum'd
To judge the beauty of a Goddess.

--John Dryden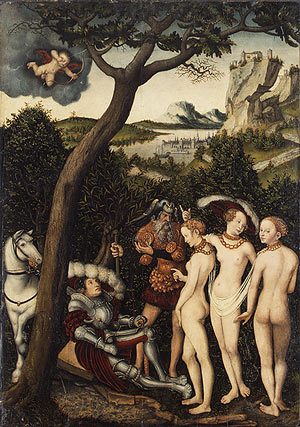 The Judgment of Paris, Lucas Cranach the Elder (1472-1553)
Posted by JD Hull. Permalink | Comments (0)
Don't tell me the moon is shining; show me the glint of light on broken glass.

--Anton Chekhov (1860-1904)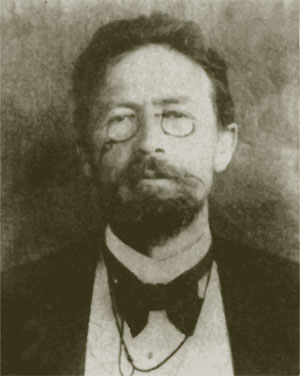 Posted by JD Hull. Permalink | Comments (0)
January 25, 2018
He was a loner with an intimate bond to humanity, a rebel who was suffused with reverence. An imaginative, impertinent patent clerk became the mind reader of the creator of the universe, the locksmith of mysteries of the atom and the universe.

--Walter Issacson, in Einstein: His Life and Universe (Simon & Schuster, 2007)


Children come with Imagination. It's standard issue.

--Holden Oliver in 2009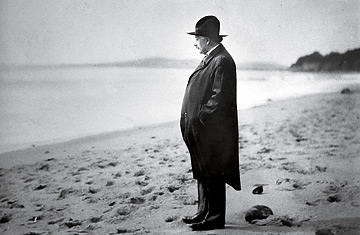 "E" at the beach: Another fresh take.
Try this at home and work: The Holy Surprise of a Child's First Look. Forget for a moment, if you can, about Clients and Paris. This blog is at heart about Quality, Old Verities, and Values--the things no business, government, non-profit group, religion, politician or leader (a) wants to give you or (b) can give you. No, not even family and friends can. You have to find them on your own. Work and Service, whether you are paid for them or not, are inseparable from these things.
At the blog, at our firm, and in our lives, we seek--in the largest sense--serious overachievers, and aficionados of life, past and present: identifying them, learning from them, having them as friends, hiring them and above all, never holding them back. It is often hard to find these people--or even to remember that they once existed. We do, after all, live in a cookie-cutter world. Originality, intuition, authentic spirituality, and even taste are not valued--these traits are often feared and attacked--in most of the West. This is especially true in America, where we continue to be geographically, culturally and (some think) cosmically isolated. The United States, despite its successes, high standard of living and exciting possibilities, has become world headquarters of both moral pretension and dumbing life down. Besides, fresh thinking leads to painful recognitions. It's easier to let something else do the thinking for us.
"Fragmentation" is a word some people (including those with better credentials than the undersigned to write this) have used for decades to describe modern humans all over the world: lots of wonderful, intricate and even elegant pieces--but no whole. So, in our search for coherence, we look for clues. We look to television, advertising, and malls. To work, and to professional organizations. To secondary schools, universities, and any number of religions (none of the latter seem "special"--they say identical intuitive and common sense good things, but just say them differently), and to an array of other well-meaning institutions. In fairness, all of these have their moments (hey, we all like our insular clubs).
Posted by JD Hull. Permalink | Comments (0)
Reprinted from a 2005 "Law Week edition" of The San Diego Daily Transcript, here's "Professionalism Revisited: What About The Client?", written by one of our spunkier U.S. trial lawyers. Note that the piece ends with "rules of professionalism"--but from the client's perspective. Excerpts from Rules 1, 5 and 6:
1. We come first. Be nice--but if in doubt, use the rules. If you feel you know the lawyers you are dealing with, we will follow your advice and instincts. If you are in doubt about the lawyers, or if it might compromise us to deviate from the formal procedural rules, please stay close to those rules.

5. If you have, or would like to have, a personal relationship with opposing counsel, that's fine, but don't let the relationship hurt us--the client. We don't care as much as you do about your maintaining or developing collegiality with other lawyers in your jurisdiction; in fact, we could not care less.

6. If opposing counsel shows animosity toward you for following the procedural rules and keeping things moving, that is tough. This is not about the lawyers. We hired you to represent us. We would like you to get this done. Again, as your client, we seldom think that aggression and persistence are "unprofessional".
Posted by JD Hull. Permalink | Comments (0)
January 24, 2018
The best and most redeeming thing about Twitter?
You can Experiment.
Experiment with:
1. Words.
2. Ideas.
3. Relationships. In other words, your "Social Reach." You collide or bond with people you otherwise would not meet. A New Breadth.
Let's keep using it that way.
Posted by JD Hull. Permalink | Comments (0)
Half the people you meet live from one day to the next in a state of such fear and uncertainty that about half the time they doubt their own sanity. Their boats are rocking so badly that all they want to do is get level long enough to think straight and avoid the next nightmare.

--HST, Fear and Loathing: On the Campaign Trail '72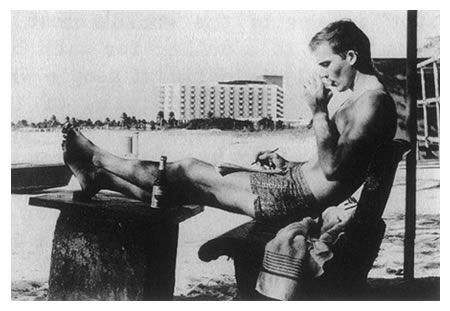 Posted by JD Hull. Permalink | Comments (0)
January 22, 2018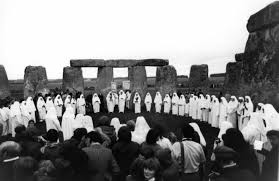 Lots of conversations with persons who approach your firm with a legal issue do not result in your getting hired. The matter might be too small, too insubstantial or not the kind of law you do. You usually know in the first few minutes. But very often the time from the initial call or meeting to saying "no" is protracted. You may need to review documents, or speak with someone they asked you to contact. However, that may take a few days, and involve a few conversations and emails.
In those cases in which you need to put off saying no, write a declination letter. Email. Regular mail. Something. Put it in writing that you are not her attorney. It's easy. It simply says you are confirming that you and your firm are NOT going to represent him, her or it in the matter at hand. It does not say why. It does not need to say why.
If the would-be client is an "unsophisticated user of legal services" or, in your view, a stone crazy person, the declination letter is especially important. You may even want to write one if there was only a short phone call or meeting to evaluate the matter followed by an immediate verbal "no". Again, if there may be any misunderstanding, write a declination letter. And do it quickly.
Frequent questions:
1. Do you really need to do this from time to time?
Answer: Yes. At least 4 or 5 times for would-be clients in a large or BigLaw firm during your career. In the smallest firms count on doing it at least 50 times in the course of a career. If you do plaintiff's PI or represent Mom and Pops business clients, you may do it more.
2. Who do you send them to and when?
Answer: (a) To would-be clients in situations where you take more time than usual to evaluate the matter they bring to you before saying no, (b) to unsophisticated users of legal services or, and most likely, (c) to crazy people who might tend to rely on your legal representation going forward despite the fact that you have declined the representation. Do it as soon as possible.
3. Why? Why would you ever need to send a declination letter?
Answer: Because unsophisticated and crazy clients are legion. They may not listen well. Or no one will represent them--and they may be so desperate for someone to move forward with their marginal or "dog" case that they in effect hijack you and your firm in hopes that you feel duty-bound to act or that you will change your mind. This is particularly true if a jurisdictional deadline is looming.
Posted by JD Hull. Permalink | Comments (0)
January 21, 2018
O famous Kent
What country hath this isle that can compare with thee?

--Michael Drayton (1563-1631), in Polyolbion
I've been here several times and will return as many times as I can. London lawyer friends live here in this village and civil parish of the City of Canterbury district of Kent, England: a sane and civilized rural way station on the path from Cardiff or London to Paris. Barham is above all ancient, pastoral and undisturbed. Population 1200. It was spelled Bioraham in 799, after Beora, a Saxon chief. The Anglican village church dates to the 1100s and was likely built over a Saxon church which existed at least by 809. Barham is not far from Canterbury--and local legend has it that one of knights who killed Thomas Becket had an estate here.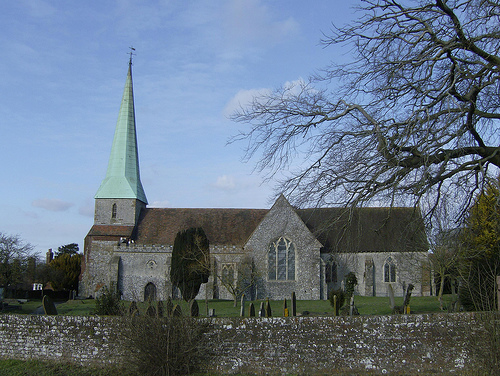 Posted by JD Hull. Permalink | Comments (0)
January 20, 2018
People will not wait to be introduced and will even begin to speak with strangers as they stand in a line, sit next to each other at an event, or gather in a crowd.

--Commisceo Global, a London-based consultancy on what to expect in America
One of my best Brit friends is a City (central London) lawyer who lives part of the time in Kent. He and his wife live in a very old village which is about the same population it was 1000 years ago: about 200. To a degree, and at only certain times, I like making him uncomfortable with my American colonial manners, and in some situations work at it pretty hard. In most respects, however, I do as my European hosts do wherever I am and wherever they take me. But there are exceptions. For one thing, I refuse to park my friendliness and open curiosity about people, places and things. I can't help it. Even when I am trying to tone things down.
Like the time I upset everyone by chatting up my Kent friend's butcher early one quiet Saturday morning while the butcher was cutting up something that we would prepare later for dinner. Just the three of us. No one else was in the store. It was quite tiny but had a prosperous look. The butcher was clearly proud of his shop. I started asking the butcher about the store, how business and even his hat, which I complimented him on. Which took me only about 30 seconds. The butcher looked a bit frantic, said nothing and turned to my friend for help or an explanation. The butcher got both. My friend quickly said something like "He's an American...very friendly you know...what are we to do?"
It's true. American manners drives Brits, Germans and most northern Europeans nuts: American informality, openness, curiosity non-stop cheerfulness and friendliness. Over on their side of the pond, even a very self-assured and accomplished southern England executive, consultant, lawyer or other professional, for example, would rather choke to death than talk to strangers in a subway or ask how to get to a bank or money exchange. But wide-open is what Americans are and have always been; if you want to do business in the U.S., you need to step up. Or at least tolerate us. When we Yanks are over there, you guys can complain and be mortified all you want. And you do.
There is no end to multi-cultural etiquette primers on "doing business internationally", and most of them are of course drivel. The best advice in a nutshell? Go where you need to go, and watch your American hosts carefully as you work--but do "go native". Be prepared to amp yourself up just a notch. The website of UK-based Commisceo Global Consultancy does a nice job of laying out the overall business atmosphere here in a few sentences:
American friendliness and informality is legendary. People will not wait to be introduced and will even begin to speak with strangers as they stand in a line, sit next to each other at an event, or gather in a crowd.

Americans are direct in the way they communicate. They value logic and linear thinking [note: not sure I agree with foregoing clause] and expect people to speak clearly and in a straightforward manner. Time is money in the U.S. so people tend to get to the point quickly and are annoyed by beating around the bush.

Communicating virtually (i.e. through email, SMS, Skype, etc) is very common with very little protocol or formality in the interaction. If you are from a culture that is more subtle in communication style, try not to be insulted by the directness.
Original WAC/P post February 21, 2015
Posted by JD Hull. Permalink | Comments (0)
January 19, 2018
Our world-famous 12 Rules of Client Service. Revel in their wisdom. Ignore them at your peril. Teach them to your coworkers. Argue about them. Improve them.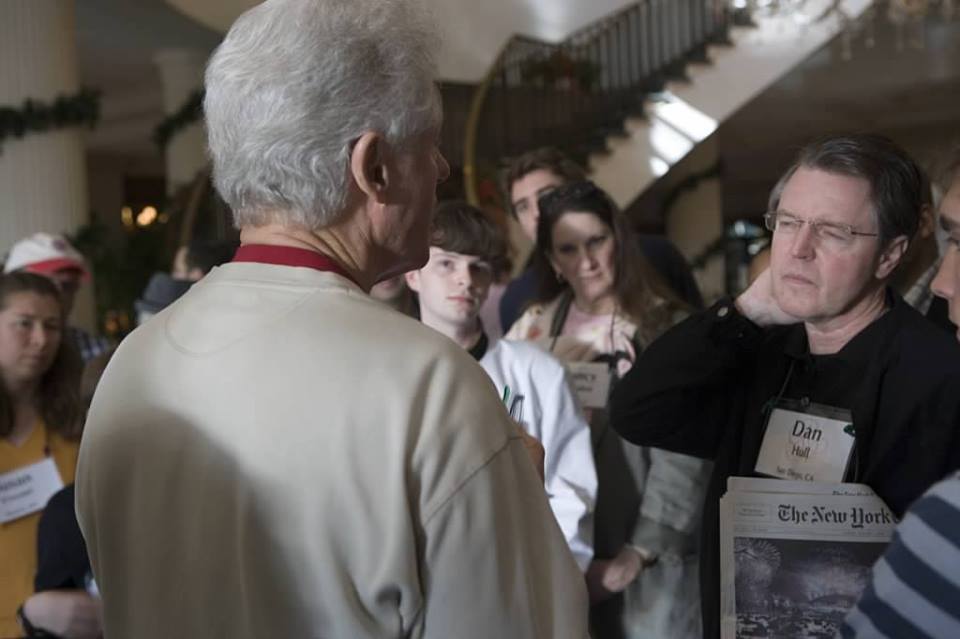 Posted by Holden Oliver (Kitzbühel Desk). Permalink | Comments (0)
Neither the tiny rural village of Lindsey nor the surrounding countryside has changed much since 1634, when one side of my family called Holden left there via Ipswich on the River Orwell for Massachusetts and, in time, a new "Groton", named after another small village near Lindsey. Three hundred and eighty-four years later, Lindsey is pastoral, green, mainly un-peopled and fairly remote. No visible overt 21st century commerce. Some farming. No tourists.
St Peter, a rough Anglican church, at one time Catholic, the one my ancestors attended, built in the 1300s, and even older church ruin, St James (1200s), are the only man-made constants. Still a "parish", Lindsey is on the B1115 Hadleigh-to-Bury road.
This is part of East Anglia--coveted, held and loved for so long by the Danes. The region's been victor and victim over and over again. Mainstream tribes from all over Europe battled here for centuries. It is storied. It is still beautiful. Nothing compares to it.
And it is a key "feeder" region in the English migration to America. From 1625 to 1640, Charles I had tried to rule England without calling the Puritan-dominated Parliament. Puritan dissenters, lots of them, lived in the area around Lindsey, and
from here hundreds of families fled across the Atlantic to the new world. The Winthrops, of tiny Groton, would become founders of the State of Massachusetts. But most of the settlers were poor, working families, and they would devote themselves to quiet, prayerful unpersecuted lives, and of work hard to build new communities. Of course, they would never see Suffolk or the valley of the gentle Brett again.

--Simon Knott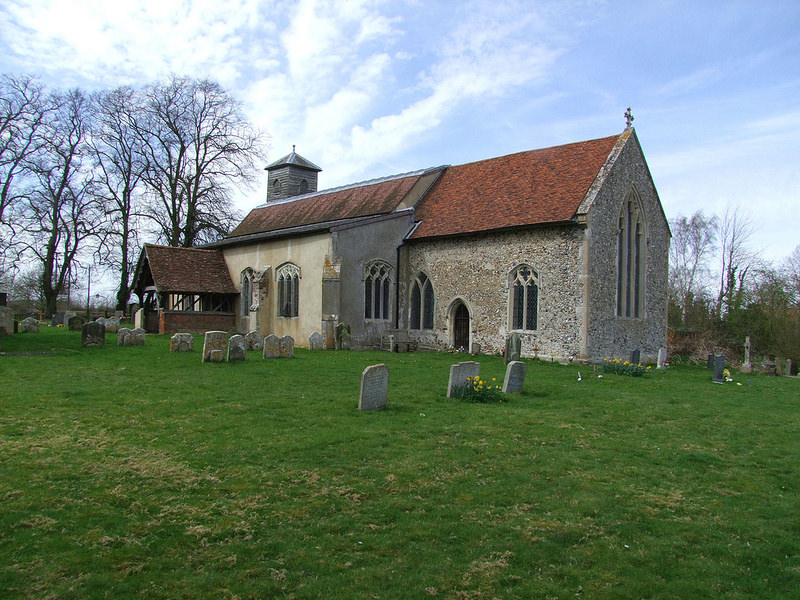 St. Peter in Lindsey
Posted by JD Hull. Permalink | Comments (0)