February 26, 2021
A funny, fearless and densely layered poem (1960s super-critic Karl Shapiro said the "baroque" style used made it funnier and more ironic), Melvin B. Tolson's Harlem Gallery was first published in 1965, shortly before Tolson's death in 1966. Nearly 160 pages long, it showcases and comments upon a wide variety of humans living in that pulsating, screaming, dancing and crying New York City neighborhood from the time of the Harlem Renaissance in the 1920s through the 1950s.
Twenty years before Harlem Gallery, Tolson had finally found the widespread recognition and praise through his customary shorter and more conventional verse forms. But Harlem Gallery surprised readers and critics with its novelty and verve.
A separate poem was crafted for each human subject in the gallery, based on encounters and informal interviews Tolson conducted when he lived in New York for a full year. In each poem, however, Tolson, who was ethnically both African-American and native American, continued to opine about race, and about the difficulty of squaring the actual experiences of American minorities with the idea of equality promised by the American experiment. True, the form of Harlem Gallery suggests that it is as least loosely modeled on Edgar Lee Master's Spoon River Anthology--to which Tolson's steady parade of characters has been favorably compared. Tolson's gallery characters, however, speak the many colorful and often-warring dialects one could hear on the Harlem streets.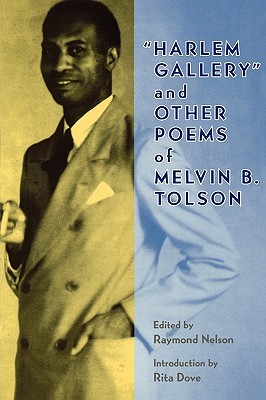 Posted by JD Hull. Permalink | Comments (0)
Someone I met when I was 18 sent me this picture. It's of where I lived on Capitol Hill after I was married. Federal style townhouse now about 130 years old painted the same regal blue. First-floor apartment. Just married, and both 29, a young associate and his smart, kind and so beautiful law student wife--the one who went to William and Mary, danced, played the violin, looked like Ali McGraw, was a vision and had worked as a buyer at Garfinckel's--lived there. Both driven. Both senior class presidents. 304 East Capitol is one block from the Folger Theater. Two blocks from SCOTUS. Three from the Capitol dome. Four from the subway. The neighborhood brims over with cocky, interesting, well-read, well-rounded and ambitious people. Pre-marriage girlfriends in the bars here and in Georgetown pouring beer on my head or leaving for Israel for something I'm sure I did or said. Hungover Sundays. The miracle of Spam. World-class academics, actors, musicians, statesmen and political pros just passing through. Gay men on bikes cruising me most summer days on way home from work. The Field and Stream splendor of the Tune Inn. Young men with names like Arvin from Salt Lake not only drinking like pros but trying to pick up waitresses with brogues named Maeve who would only eat them alive and humiliate them--in public--by critiquing their lovemaking the next day. The neighborhood has, say, 30 AA and NA meetings a week. Three rehabs. Interns named Muffin and Sugar. Resident members of Congress with their guards down. And within lunging distance of 10 churches, 8 parks, 12 secondary schools and maybe 60 restaurants and bars with names from D.C. history like Jenkins Hill and Tunnicliff's. Funny bartenders. Mean waitresses. Is this a great 'hood or what?
Original post: March 3, 2017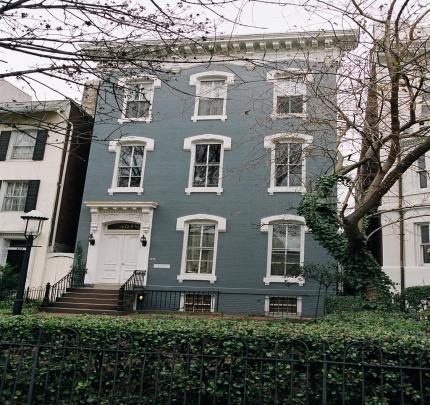 Posted by JD Hull. Permalink | Comments (0)
This is slavery, not to speak one's thought.
— Eurípides (480-406 BC)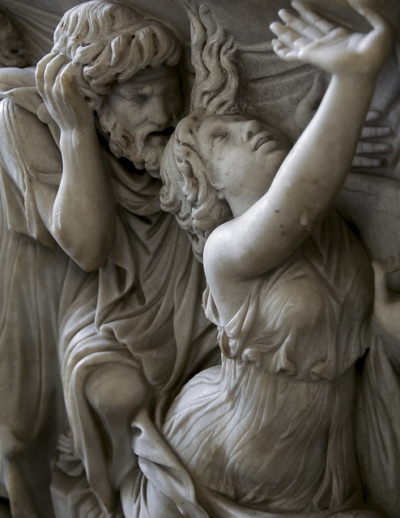 Posted by JD Hull. Permalink | Comments (0)
February 25, 2021
Is anything human-made more beautiful? Below is Folio 292r (circa 800) of The Book of Kells, an illuminated manuscript of the four Gospels of the New Testament. This page opens the Gospel of John. Illustrations in the Book of Kells mix pagan, Celtic and Christian symbols and motifs covering nearly 8000 years of Irish history. The result is an ancient montage of mixed media that's playful, quirky, sexual, mystical and yet deeply Christian. A masterwork of Western calligraphy. 680 pages of the book survives. Housed at Trinity College Library in Dublin.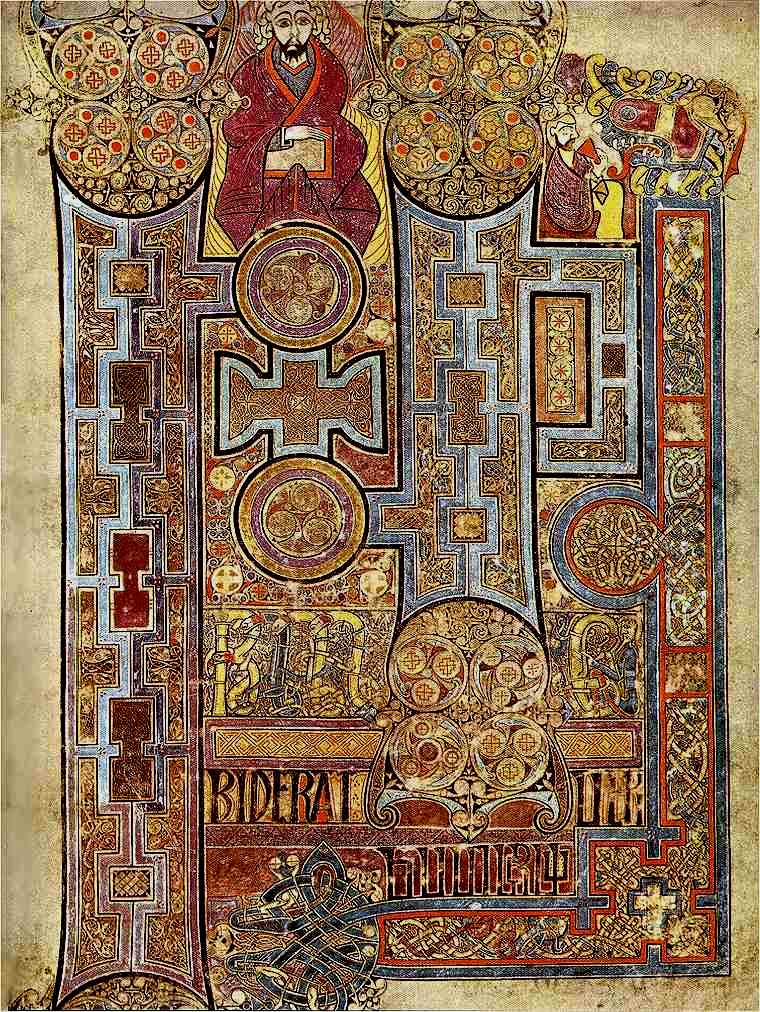 Posted by JD Hull. Permalink | Comments (0)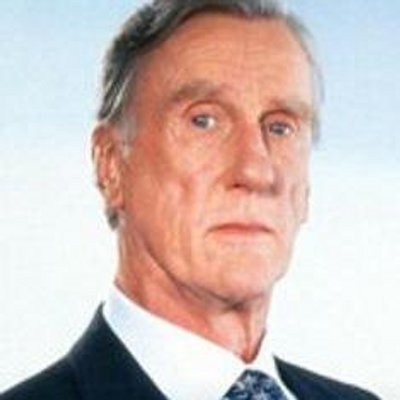 If you work for a peer firm, you will encounter me or someone very much like me. [Y]ou cannot avoid the essence of my character if you aspire to succeed... I or some form of my embodiment will exist to make your existence as uncomfortable and unpleasant as it can be. Welcome to the legal profession you self-entitled nimrods have created.

--Partner Emeritus, commenting at Above The Law, 2009
There is a reason that my late Union Street, Nantucket neighbor David Halberstam did not devote a chapter or two in his highly admired The Best and the Brightest to my friend Partner Emeritus, celebrated Dean of Above the Law's Commentariat. Sometimes, a Polo injury at Meadowbrook will change the course of world history--and not for the better:
I remember the Summer before the Tet Offensive so vividly.

I recall entering the MEPS station at Fort Hamilton in Brooklyn where I took my physical examination, which was a requirement prior to being shipped out to OCS. I wanted to serve my country and kick g**k posterior so badly that I even let a proctologist stick his index finger in my rectum while I coughed. Alas, a Polo accident caused me to incur a hairline fracture in my pelvis and I was disqualified from service just two weeks from my deployment date.

I am confident that had I gone to 'Nam, I would have deployed a strategy that would have won that war. They don't teach this at the Army War College but my endgame to the Vietnam War would have been to round up all the hippie stoners and opium addicts in the States and parachuted them into Vietcong territory. I would have used the MK Ultra Program to convince the paratroopers that the Vietcong had stolen their drugs and that the opium fields would be their prize for killing every last member of Charlie.

West Point would have been renamed after me but I accept that God had other plans for me (i.e., conquering the legal profession and establishing myself as a legal icon).

--PE comment to 3 Things Law Students And Young Lawyers Can Learn From Podcaster-In-Chief Marc Maron, ATL June 26, 2015.
Even more than about Charlie, what Partner Emeritus worries about most is gene pool dilution and mediocrity in the legal profession. We will get to that soon enough. First, though, we'll do a few posts about PE's younger years, including a few sexual adventures during the 1960s-1980s. In the meantime, below is the famous negotiation between Yank actor Matthew Modine as "Joker" and British actress Papillon Soo Soo as "the Da Nang hooker" in Stanley Kubrick's 1987 war satire Full Metal Jacket.
Posted by JD Hull. Permalink | Comments (2)
February 24, 2021
Over the past 15 years, this blog has hopefully showcased a number of pet issues and themes. And apart from customer service, litigation strategies, lawyering abroad and cultural literacy, one has been the importance of thinking independently about law, government, politicians and political ideologies.
Or thinking independently about Anything.
There are these days lots of good, and arguably "bad" notions and ideas--nationally and internationally--all along the political and cultural spectrums, and there is no reason to pick one party, camp or pol to follow on all ideas.
After all, people, not ideologies, solve public problems.
You don't need a label. You need not be a Democrat, Republican, Libertarian, Anarchist or Nihilst. You can "mix and match" both pols and ideas. Me? I've changed, if subtly, and in ways that trouble a friend here and there. But my thinking is pretty much the same as it was when I was in my 20s. As a "liberal", I never really trusted Big Labor. I've never liked the "politically correct" speech regimen many traditional liberals unfortunately embraced. To the contrary, I've always admired free speech--and I revel in it. But the main change is that in 2017 I registered Republican for the first time. Not much else is different.
Most of us do have a Political-Civil Rights-Human Rights-Social Justice resume, CV or profile (hereinafter "Political CV"). I use "political" broadly here to describe anything related to participation in public affairs where some social purpose was fully served beyond my own self-aggrandizement, ego or pleasure. More than one purpose is okay; few of us do anything out a pure heart to "will one thing." So below I've fashioned my Political CV. Forget about Dem or GOP or Libertarian scripts. I've listed things that I did in large part "for the public good." For example, things I'm not including are Senior Class President (mix of duties and agendas), Eagle Scout (the same), working in a union-shop factory (Keebler's, in my case), membership in student or church groups with some but not primary political or social welfare slant, merely being asked to run for Congress (and saying no), merely voting, serving on an elected but non-partisan Zoning Board for a community of 40,000 or going to see Jerry Rubin, Timothy Leary or Milo speak at the Cow Palace. Or throwing a huge pickle at an on-stage Iggy Stooge (and hitting him).
But passing out leaflets for a political candidate, demonstrating against POTUS candidate and Alabama Governor George Wallace or working regularly with the urban homeless? Oh yeah. Those are "political". They reflected my idea of furthering "the public good" at the time I did I them. You get the idea. There's got to be a cause, some heat, some passion in an activity that helps others. Doesn't matter if it's a national issue or not. Doesn't matter if there's rhetoric involved.
Anyway, I've been an activist in everything I've ever done--and particularly with respect to groups I've joined or with which I've identified. So, and since I was 16, here is my political resume in chronological order. All of this is part of me now. All of it I'm proud of and still believe in. I'll update it as I remember things things.
1. Campaigned twice for Jerry Springer (Ohio-D), for runs for Congress and City Council in Cincinnati.
2. Campaigned more briefly but earnestly for Howard Metzenbaum, U.S. Senator (Ohio-D)
3. Worked with Armstrong United Methodist Church in Indian Hill, Ohio on several long-term projects for inner-city kids in Cincinnati, Ohio. Some with my mother (Head Start). Some in connection with working toward God & Country Award for BSA. (I was Boy Scout.)
4. Worked twice at as counselor at a camp for inner-city handicapped kids at summer camp in Cincinnati.
5. My party's candidate for 1970 Governor of Ohio Boys State. I was "liberal" party candidate and lost to a black kid from Sandusky. Ohio named Tony Harris. The race made news on television and in newspapers all over Ohio.
6. Student Reporter, Duke University Daily Chronicle. Civil Rights Beat, Durham. (1972-73)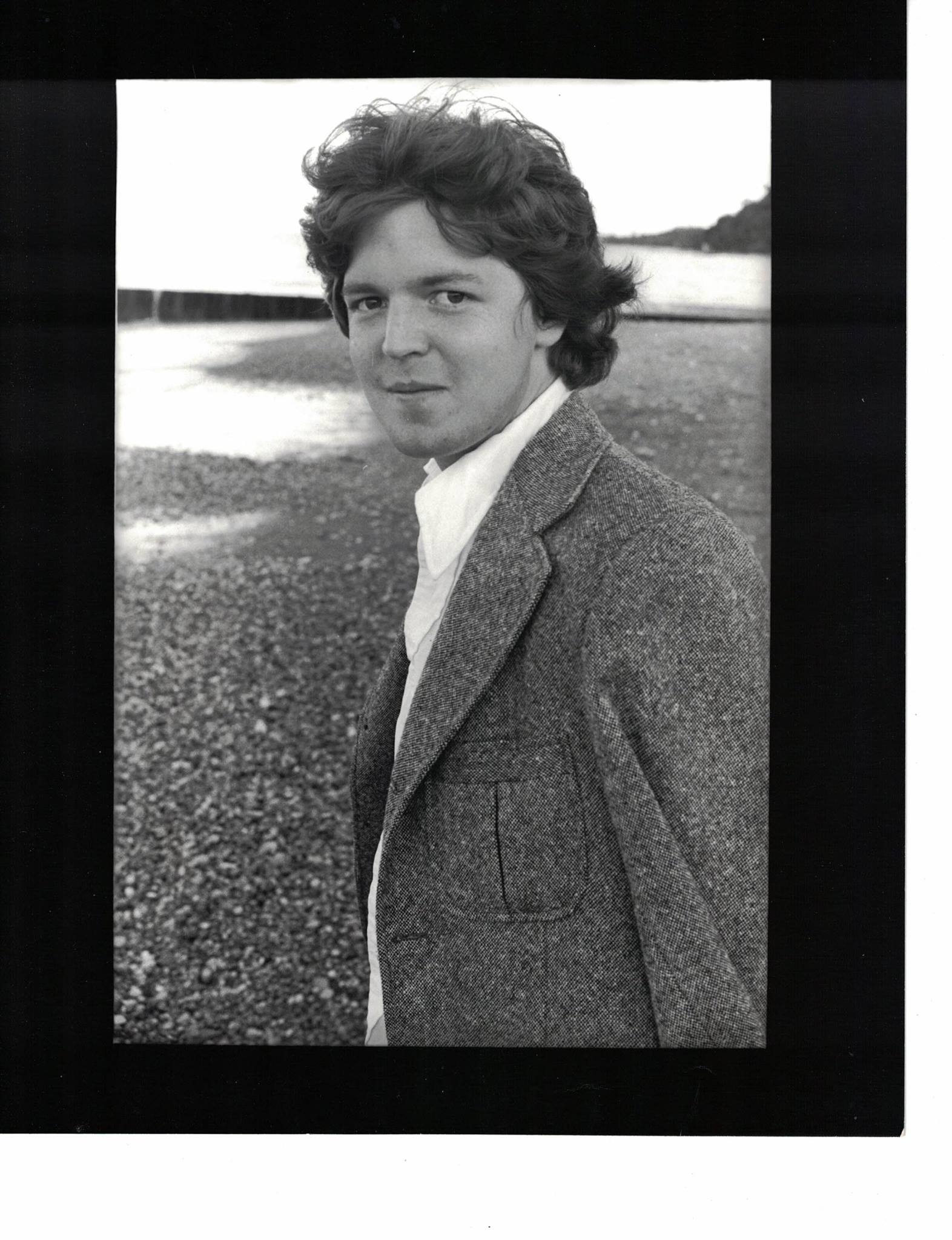 7. Demonstrator, anti-Vietnam war movement. Several marches, demonstrations, including Moratorium in D.C. Demonstrated against POTUS candidate George C. Wallace.
8. Wrote "Soul City: A Dream--Will it come true?" feature for Duke daily Chronicle. March 1974. Interviewed among others Floyd McKissick, one of founders of Soul City, the first model black city in America. Paper won acclaim and 2 awards for this reporting.
9. Aide, Sen. Gaylord Nelson (Wis.-D) (1974-1975, parts of 1976) Spearheaded demonstration project passed in Congress in preventative health care for Menominee Indian tribes in Wisconsin.
10. Worked for Lawyers Committee Under CIvil Rights suing VA furniture makers under Title VII. Class action suit. Covington & Burling.
11. Worked off and on but actively for 2 years helping probe possible violations of Voting Rights Act by large Ohio city. Department of Justice/Legal Aid Society.
12. Awarded 1-year poverty law fellowship in Toledo, Ohio. Turned down to move back to DC.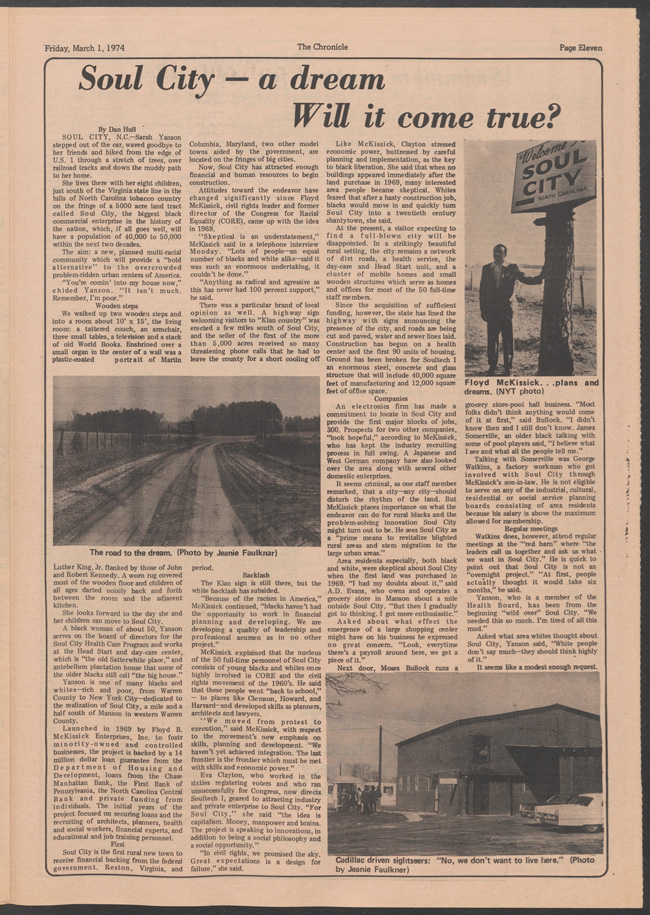 14. Two of three law review articles on racial discrimination under Constitution. Zoning and Voting.
15. Two feature articles appearing in major paper Sunday magazine. First on zoning in a small Ohio River town, New Richmond, Ohio. Second about a 1st Amendment and zoning crusader named John Coyne in rural Clermont County, Ohio.
16. Aide, Representative Bill Gradison (R-Ohio) 1978-1981. Health. Energy. Natural Resources,
17. Treasurer 2003 State Assembly Campaign for CA Democrat, Karen Heumann.
18. Chief San Diego Fundraiser and (briefly) CA Convention Delegate. Wesley Clark for President (2003-2004)
19. Board of Directors, North San Diego County Democrats (2002-2012)
20. Hillary Clinton for President, 2008, 2016.
21. Co-Founded (with Peter B. Friedman) One Night/One Person Winter Homeless Program in Northern America & Europe 2015.
Original: April 3, 2019
Posted by JD Hull. Permalink | Comments (0)
February 23, 2021
There is no joy except in creation. There are no living beings but those who create. All the rest are shadows, hovering over the earth, strangers to life. All the joys of life are the joys of creation: love, genius, action.

--Romain Rolland (1866-1944) in "Lightning Strikes Christophe"

Posted by JD Hull. Permalink | Comments (0)

If you talk about it
long enough
you'll finally write it—

—William Carlos Williams 1883-1963 "Details for Paterson"





Posted by JD Hull. Permalink | Comments (0)

February 22, 2021

He was a loner with an intimate bond to humanity, a rebel who was suffused with reverence. An imaginative, impertinent patent clerk became the mind reader of the creator of the universe, the locksmith of mysteries of the atom and the universe.

--Walter Issacson, in Einstein: His Life and Universe (Simon & Schuster, 2007)


Children come with Imagination. It's standard issue.

--Holden Oliver in 2009


"E" at the beach: Another fresh take.

Try this at home and work: The Holy Surprise of a Child's First Look. Forget for a moment, if you can, about Clients and Paris. This blog is at heart about Quality, Old Verities, and Values--the things no business, government, non-profit group, religion, politician or leader (a) wants to give you or (b) can give you. No, not even family and friends can. You have to find them on your own. Work and Service, whether you are paid for them or not, are inseparable from these things.

At the blog, at our firm, and in our lives, we seek--in the largest sense--serious overachievers, and aficionados of life, past and present: identifying them, learning from them, having them as friends, hiring them and above all, never holding them back. It is often hard to find these people--or even to remember that they once existed. We do, after all, live in a cookie-cutter world. Originality, intuition, authentic spirituality, and even taste are not valued--these traits are often feared and attacked--in most of the West. This is especially true in America, where we continue to be geographically, culturally and (some think) cosmically isolated. The United States, despite its successes, high standard of living and exciting possibilities, has become world headquarters of both moral pretension and dumbing life down. Besides, fresh thinking leads to painful recognitions. It's easier to let something else do the thinking for us.

"Fragmentation" is a word some people (including those with better credentials than the undersigned to write this) have used for decades to describe modern humans all over the world: lots of wonderful, intricate and even elegant pieces--but no whole. So, in our search for coherence, we look for clues. We look to television, advertising, and malls. To work, and to professional organizations. To secondary schools, universities, and any number of religions (none of the latter seem "special"--they say identical intuitive and common sense good things, but just say them differently), and to an array of other well-meaning institutions. In fairness, all of these have their moments (hey, we all like our insular clubs).

Posted by JD Hull. Permalink | Comments (0)

February 19, 2021


The purpose of this post—which I keep revising—is simple. To keep these homeless humans alive during the 30 coldest nights of the year by doing something simple and effective for others without holding pressers about what great people we are when it's cold as a Witch's tit downtown in the parks.

Bear with me.

As a Yankee, Eagle Scout, outdoorsy dude, lifelong camper and all-weather philanderer, let me assure you that spending a night outside in colder weather has unique challenges. Even in the Fall. And generally in the period October through March.

Exposure. The Elements. And hypothermia. Call "it" what you will. Authors Jack London and Hans Christian Andersen each wrote well-known stories about it. And you can die from hypothermia well above 32 degrees F.

You say you would really like to help the urban homeless on both cold and super-cold American Northeastern and Midwestern nights? Chilly, plain cold and the bitterly cold, there are unpredictable nights that many cities are prepared to accommodate more homeless residents at shelters but for a number of reasons (both good and bad) thousands of Americas's rough sleepers take their chances outside?

Good. So see our inaugural post about our One Night, Person (March 5, 2015) campaign and our follow-up March 7, 2015 post. No, we don't have time to go over all of this again; we're working stiffs like you. Just read the posts.

Once again, and in short, here is the idea and the rules:

You're a Yuppie, professional or other generic dweeb between the ages of 22 and 82.You live in towns like New York City, Philly, Boston, Baltimore, Indianapolis, Cleveland, Wilmington, DC or Chicago.

Or similar cities in Europe. Or Asia. Generally? Think Northern Hemisphere. Planet Earth. Wherever Yuppies roam. You may live in the suburbs or in a downtown neighborhood of these cities. But if you work during the day in a downtown area of any of them, you and yours will go forth and do this:

1. Pick out and ask a homeless woman or man what articles of warm clothing she or he needs that you already have at home or in storage--thermal gloves, wool scarfs, warm hats and beanies, big sweaters, winter coats, thermal underwear, socks, etc.

2. Ask just one person at a time.

3. Agree on a time to meet (preferably at the same place) later that day or the next day.

4. Find the winter stuff you have at home or in storage.

5. Bring said stuff to the homeless woman or man as agreed.

6. Nine out of ten times, your new friend will be there when you show up.

7. Wait for forecasts of the next super-cold night--and repeat.





Posted by JD Hull. Permalink | Comments (0)

February 18, 2021


A newsletter just reminded that the Boy Scouts of America turned 111 last week. It started here in the States on February 8, 1910. BSA meant a lot to me growing up in the Cincinnati suburb of Indian Hill, Ohio. Troop 502 was one of three in IH. The BSA's "feeder" organization the Cub Scouts also helped me transition as a nine-year-old from Chicago to Cincinnati in 1962 when P&G moved John Hull and family to a new city yet again and for the last time. My "Den Mother" in the Cub Scouts that year was the late Ellen Hill, Bill Hill's mom. The Hills also became our neighbor in the south Drake Road area when we moved there from Miami Road in 1964. In many ways since our move in 1962 I have been a Kid With Luck. I've always known it, too. Scouting played a huge role in just the right years.

Posted by JD Hull. Permalink | Comments (0)

February 17, 2021

When I want to read a good book, I write one.

--Benjamin Disraeli (1804-1881)

Posted by JD Hull. Permalink | Comments (0)

February 16, 2021

"If you're going to tell the The Truth be funny or they'll kill you."

— Billy Wilder (1906-2002)

Posted by JD Hull. Permalink | Comments (0)

February 14, 2021

Here is the complete text of a circa-1595 comedy by Shakespeare, Inns of Court in still over-percolating Legal London. And, most certainly, it was performed before law students at Gray's Inn, where Elizabeth was the "patron". Interestingly, the play begins with a vow by several men to forswear pleasures of the flesh and the company of fast women during a three-year period of study and reflection. And to "train our intellects to vain delight".

Posted by JD Hull. Permalink | Comments (0)

February 13, 2021

Paul Fussell's 1983 book "Class: A Guide through the American Status System." No finer, funnier or painfully accurate book on the subject. Fussell was a Penn professor, WWII combat veteran and WASP's WASP. Read it at your peril. It might bum you out.




Posted by JD Hull. Permalink | Comments (0)

February 11, 2021

Even if you are not convinced that thank-you notes are noticed and appreciated (they are), pretend that we know more than you (we do), and do it anyway (thank us later). Good stationery. We suggest Crane's on the lower end, or something better, like stationery from Tiffany's, or a Tiffany-style knock-off, on the higher end. A "studio card", maybe. Plain. Simple. Initials on it at most.

Posted by JD Hull. Permalink | Comments (0)


"Romeo and Juliet" by Ford Madox Brown (1821-1893)

Posted by JD Hull. Permalink | Comments (0)

February 08, 2021

Welcome to Grade School America. "Systematic Racism" is our New National Cooties. No one can tell you what it is. But Media, Academics and Progressives think everyone has it. I've met lots of Americans. Two or three racists. And thousands who are just royally pissed off.


Posted by JD Hull. Permalink | Comments (0)

February 07, 2021




Posted by JD Hull. Permalink | Comments (0)

February 06, 2021

William-Adolphe Bouguereau (1825-1905), Return from the Harvest, 1878. Cummer Art Museum, Jacksonville

Posted by JD Hull. Permalink | Comments (0)

"I would have won them all--if my clients hadn't kept reloading and firing."

--Richard "Racehorse" Haynes (1927-2017). Trial Lawyer.





Posted by JD Hull. Permalink | Comments (0)

February 04, 2021

I'm honored to have gifted lawyer-writers as friends and couldn't be prouder of Renaissance man Edward Larson, who I first met in Charleston in 2005. Ed in 1997 finished this book about the 1925 Scopes trial in Dayton, Tennessee. An understatement to say it was well-received.





Posted by JD Hull. Permalink | Comments (0)

February 03, 2021

John Henry Holliday in 1872. Graduation photo.

He despised and, whenever he could, preferred to engage bullies. He had a knee-jerk resistance to following the crowd in anything. He thought for himself. He argued with everyone (including the Earp family) about everything. He liked underdogs.

The Gift of Loyalty, Being There, Standing Up. Nine-tenths of what has been said or written about him, including Hollywood's versions, is hype. Doc Holliday wasn't a great shot, or anything like an artist with that big knife he carried around with him. He didn't kill scores of people. He wasn't drunk 24/7. Not everyone hated or feared him. Yes, he could be as mean as a snake.

But when you clear away the Old West myth, he's still a tragic but compelling and often admirable loner. Biographers do agree that John Henry Holliday (1851-1887) was fiercely loyal and could be counted on to stand up for friends--not just the Earp family--and a few others who might need a bold if flamboyant assist.

To be honest, I wish more lawyers--too many of us are cowards and wimps--had Doc's pluck, his ever-readiness to "be there" for you and his fine madness. Most of us? We don't come by strong character, action or decisiveness naturally. Face it: as a group, we are barely above-average Dorks. We've raised holding back, and even common cowardice, to an acceptable art.

Like many lawyers-to-be, Doc grew up comfortably and was well-educated. He was raised in Georgia as a popular and bright youngster in a close, supportive and fairly well-to-do family in which, among other things, he learned about card games. His clan's fortunes were badly set back, but not destroyed, by the Civil War and the subsequent occupation by Union soldiers.

He started out adulthood in 1872 as a 20-year-old graduate of a fine dental surgery school in Philadelphia. But Holliday caught Tuberculosis from either his stepmother or a patient in his first year of practice. At 22, still the beginning of his dental practice, he was diagnosed as "consumptive"--and told that he had but a few months to live.

This shock, coupled with what some researchers believe was a star-crossed love affair with a first cousin, made Holliday move West for his health. Dentistry quickly took a back seat to gambling. He became a binge-drinking rogue with only a few friends, professional gambler, resident wit, expert womanizer and prankster who was somehow menacing to most of the people he met, even at a weight of around 140 pounds. Although he was clearly an emotional and in some respects volatile man, most reports have him clear-headed, quick-witted and even strangely calm in violent situations the moment they erupted.

This was a bit of Social Critic and Philosopher in Holliday, too. I've read three bios now on Doc. (The best, to me, is Doc Holliday by Gary L. Roberts, John Wiley & Sons (2006)). Even when drunk, or when he had lost his temper (both happened a lot), Holliday was clear-eyed in a number of respects.

He wouldn't beat up on weaklings. He despised--and, whenever he could, preferred to engage--straight-up bullies and self-hating creeps. He had a knee-jerk resistance to following the crowd in anything. He thought for himself; he argued with everyone (including the Earp family) about everything. He liked underdogs. And even when cornered--or was about to be hauled off to jail (also happened a lot)--he had something caustic and often incredibly funny to say.

Tuberculosis did finally claim him in Colorado at age 37. There is no end to the lore about what he did and said, or to the speculation about what made him tick in those last 15 years. But even the most sober historical sources on Holliday do agree on one thing. Over and over again, if a friend--in a few cases a total stranger--needed him, he was there immediately.

Instinctive. No hesitation. An angry yet adept explosion. None of the pathetic step-by-step "analysis" of modern white collars that should shame us deeply every time and never does. You didn't need to ask Doc to help. Doc didn't need to think about it. He just did it.

Posted by JD Hull. Permalink | Comments (1)

Rule 8 is Think Like the Client--Help Control Costs. The 2006 Explanatory Note for Rule 8--we reluctantly decided that an Advisory Committee Notes regime was a bit grandiose--begins this way:

Ask an associate lawyer or paralegal what a "profit" is. You will get two kinds of answers. Both answers are "correct" but neither of them helps anyone in your firm think like the client. The answers will be something like this. (1) "A profit is money remaining after deducting costs from receipts." This is the correct young transactional/tax lawyer answer. Or (2) "it's money left over at the end of the hunt." This is the correct fire-breathing young litigator answer.

The right answer?

A profit is a reward for being efficient. And until a lawyer, paralegal or staffer gets that, she or he will never know how a client--or a law firm partner--thinks.

Posted by JD Hull. Permalink | Comments (0)

Early-in-the-case Rule 56 motion. Note well-dressed Brit General Counsel taking a bullet.

Rule 56

(d) When Facts Are Unavailable to the Nonmovant. If a nonmovant shows by affidavit or declaration that, for specified reasons, it cannot present facts essential to justify its opposition, the court may:

(1) defer considering the motion or deny it;
(2) allow time to obtain affidavits or declarations or to take discovery; or
(3) issue any other appropriate order.

Trial lawyers, in-house counsel and law students know that Rule 56 of the Federal Rules of Civil Procedure, or summary judgment, gives a litigant an opportunity to win on its claims or dispose of the opponent's claims relatively quickly and without trial. Accompanied by sworn affidavits, and most often discovery responses, a Rule 56 motion tries to show that there is no real dispute about key facts and that the movant is entitled to judgment under the law. If the trial court grants it, the movant wins on those claims.

But what if a summary judgment motion is brought against your client suddenly and early in the case and the local rules of the district court don't give you much time to develop and prepare an opposition? After all, Rule 56 lets a party who has brought a claim file for summary judgment after 20 days, and defendants can file "at any time".

It happens pretty frequently. Both plaintiffs and defendants make the motion early on. Defendants do it the most. No matter who moves early, or how it is eventually resolved by the district court, it's very disruptive. It will fluster even the most battle-hardened-been-there-seen-that GC or in-house counsel. It's an expensive little sideshow, too. Everyone in the responding camp hates life for a while.

Subdivision (d) of Rule 56, "When Facts Are Unavailable to the Nonmovant", provides a safeguard against premature grants of summary judgment. Some good lawyers seem either to not know about--or to not use--subdivision (d) of Rule 56. In short, you file your own motion and affidavit--there are weighty sanctions if you misuse the rule, so be careful--stating affidavits by persons with knowledge needed to oppose the motion are "not available", and stating why. (More senior lawyers may know this provision as Rule 56(f); it was re-lettered in the 2010 amendments to the federal rules.)

The federal district court can then (1) deny the request and make you oppose the motion, (2) refuse to grant the motion or do what you really want it to do: (3) grant a continuance so that you can develop facts and, better yet, take depositions or conduct other discovery. Granted, it's a rule that delays, but if used correctly, Rule 56(d) can give you the breathing room and time you need to develop the client's case--not to mention avoiding the granting of summary judgment.

Posted by JD Hull. Permalink | Comments (0)

February 02, 2021

A wise man's country is the world.

--Aristippus (435-360 BC), as quoted by Diogenes Laertius, Lives of Eminent Philosophers

Posted by Holden Oliver (Kitzbühel Desk). Permalink | Comments (0)

An objection must be stated concisely in a nonargumentative and nonsuggestive manner.

--from Rule 30(c)(2), Fed. R. Civ. P.

Defending lawyers who testify are bad. And let he or she without sin cast the first stapler. In defending in a deposition, giving speeches and coaching your witness on the record is "bad" because it may be suggestive of the answer the witness should give. We could go on and on and on about this--but we'll just be quiet and let you read it.

(Does this guy ever shut up?)

Posted by JD Hull. Permalink | Comments (0)

February 01, 2021

I cannot be silent. I have had to struggle against a storm of political hate and malice which few men ever experienced.

--Young MP Benjamin Disraeli (1804-1881), asking Robert Peel for a post in the Peel Ministry in an 1841 letter. Peel refused him.


"Dizzy"

Posted by JD Hull. Permalink | Comments (0)

If you have nothing nice to say, come sit by me.

-- Alice Roosevelt Longworth
Died on February 20, 1980 at 96.




Posted by JD Hull. Permalink | Comments (0)

January 31, 2021

Posted by JD Hull. Permalink | Comments (0)

January 30, 2021

239 rue Saint-Honoré.

Posted by JD Hull. Permalink | Comments (0)

January 29, 2021

The Strip, Sunset Boulevard, West Hollywood. As the fictional movie character John Milton said, law done right is a "backstage pass to the world." We've a client doing good things in Africa with an office here. How many lawyers have a practice with client meetings two blocks from the Viper Room and The Whiskey? Probably quite a few. But I grew up in the Midwest--where TGIF restaurants are considered to be pretty wild, and it's eccentric to wear a trench coat and tasseled loafers on the same day. So this kind of meeting venue may be my notion of gratitude.

Posted by JD Hull. Permalink | Comments (0)

January 27, 2021

The 12 Rules, that's who. Sometimes all you need is what one favorite poet called a New Mind. These now classic if eternally annoying 12 Rules will get you there, friend:

1. Represent only clients you like.
2. The client is the main event.
3. Make sure everyone in your firm knows the client is the main event.
4. Deliver legal work that changes the way clients think about lawyers.
5. Over-communicate: bombard, copy and confirm.
6. When you work, you are marketing.
7. Know the client.
8. Think like the client--help control costs.
9. Be there for clients--24/7.
10. Be accurate, thorough and timely--but not perfect.
11. Treat each co-worker like he or she is your best client.
12. Have fun.





Posted by JD Hull. Permalink | Comments (0)

I was simmering, simmering, simmering. Emerson brought me to a boil.

--Walt Whitman (1819-1892)

Walt Whitman was a young printer and hack writer in New York City when Ralph Waldo Emerson was at the peak of his writing. Emerson ignited him.

Posted by JD Hull. Permalink | Comments (0)

January 26, 2021

We no longer require humor in poets. We demand salvation. Of that commodity, Wordsworth still supplies the purest sort.

--Mark Van Doren, 1950, commenting on the subtle graduation of William Wordsworth (1770-1850) from his role as "nature poet" to one of philosopher who offered hope and reassurance to troubled Europe.

All his life, Wordsworth preferred the beauty and solitude of the outdoors to London and the most literary cities on the Continent. His poetry was seeing, feeling and emotional, its inspiration springing from northwest England's famous Lake District, where he was born, wrote and spent most of his life. In his younger years especially, the upheavals in France between 1789 and 1799, and his extensive travels through Europe, made Wordsworth sad, cynical and pessimistic about man and society. Writing 100 years after Wordsworth's death, Mark Van Doren (1894-1972), the remarkably influential Columbia English professor, himself a poet who won the Pulitzer Prize in 1940, gave Wordsworth high marks for his power in his later years "to soothe and console an age fallen victim to philosophic despair."


Wordsworth in the Lake District

Posted by JD Hull. Permalink | Comments (0)

January 25, 2021

You think you're scrappy, resourceful, resilient and tough? Robert Frost spent his life as a poet, student, teacher, newspaper reporter, farmer, factory worker, father, husband, plugger and accomplished Yankee. Personally, he lived through a never-ending series of tragic and painful episodes. Both his parents died young. When his father died, leaving the family $7, Frost was 11 years old. Fifteen years later, his mother died of cancer. Four of Frost's own six children died prematurely. Only two survived him.

He was awarded the Pulitzer Prize four times: 1924, 1931, 1937 and 1943. The first, in 1924, came at age 50.




Posted by Holden Oliver (Kitzbühel Desk). Permalink | Comments (0)

Hotel du Jeu de Paume, 54 Rue Saint-Louis en l'Île, 75004 Paris

Posted by JD Hull. Permalink | Comments (0)

January 22, 2021

"He who makes a beast of himself gets rid of the pain of being a man."

--Samuel Johnson, 1709-1784 London





Posted by JD Hull. Permalink | Comments (0)

January 21, 2021

Sainte Genevieve (422-512) saved Parisians from the Huns, the legend goes, in 451. People had started to flee Paris in anticipation of the invasion led by Attila--but stopped when she told them she had a vision that the Huns would not enter Paris. "Get down on your knees and pray! I know it, I see it. The Huns will not come." She became the city's patron saint. In 1928, a grateful Paris erected a statue to her on the Pont de la Tournelle (now about 400 years old). Genevieve is facing east, the direction from which the Huns approached. She is also said to have converted Clovis, king of the pagan Franks, to Christianity. If you walk from the Right Bank to the Left Bank near the Ile Saint Louis, you walk right under her, with Notre Dame on your right.

Posted by JD Hull. Permalink | Comments (0)

I've loved "The Bells of Rhymney" since it stood out hauntingly on my first Byrds album when I was about 14. Like any good well-rounded Indian Hill High kid, I looked up its traditional roots in my teenage years. And it meant more and more to me the more I get to hear great church bells of new cities. Anyway, the late folk great Pete Seeger borrowed the lyrics from either the Welsh or the Brits. And Jim-Roger McGuinn got it from old Pete. Some think the song is the first folk rock. I think it's great music and lyrics. I'll play the Byrds version later. And since I come from a musical tribe (both Holdens and Hulls) I would love to hear my talented cousin songwriter-musician-singer Diane Healey perform this. Later I'll come back here and post the song that appears on that 1965 album.

"The Bells of Rhymney"

Oh, what will you give me?
Say the sad bells of Rhymney

Is there hope for the future?
Say the brown bells of Merther

Who made the mine open?
Say the black bells of Rhonda

And who killed the miner?
Say the grim bells of Lina

Who aband' us in court?
Say the bells of Newport

All will be well if-if-if-if-if,
Say the green bells of Cardiff

Why so worried, sister why?
Say the silver bells of Whye
And what will you give me?
Say the sad bells of Rhymney

Oh, what will you give me?
Say the sad bells of Rymney
Is there hope for the future?
Say the brown bells of Merther

Who made the mine open?
Say the black bells of Rhonda
And who killed the miner?
Say the grim bells of Lina

Songwriters: Idris Davies / Pete Seeger

The Bells of Rhymney lyrics © T.R.O. Inc.

Posted by JD Hull. Permalink | Comments (0)

January 20, 2021

Books are fatal: they are the curse of the human race. Nine-tenths of existing books are nonsense, and the clever books are the refutation of that nonsense.

--Benjamin Disraeli (1804-1881)

Posted by JD Hull. Permalink | Comments (0)


Happy Inauguration Day?

Cold. January 20—the official Inauguration Day date since 1937 (kicking off FDR's second term—is usually cold in the northern hemisphere. Today in DC it hovered between the mid and late 30s with plenty of wind and even a little snow. So it seemed even chillier. I was out from 7:30 am to noon snd was reminded more than usual that more people live in American and European streets every year. All manner of humans. Crazy, sane, drunk, sober, hard luck unemployment cases, heartbreakers, fakirs, frauds and scads of the usual healthy panhandling 35 year olds who can work.

The purpose of this post—which I keep revising—is simple. To keep these humans alive during the 30 coldest nights of the year by doing something simple and effective for others without holding pressers about what great people we are when it's cold as a Witch's tit downtown in the parks.

Bear with me.

As a Yankee, Eagle Scout, outdoorsy dude, lifelong camper and all-weather philanderer, let me assure you that spending a night outside in colder weather has unique challenges. Even in the Fall. And generally in the period October through March.

Exposure. The Elements. And hypothermia. Call "it" what you will. Authors Jack London and Hans Christian Andersen each wrote well-known stories about it. And you can die from hypothermia well above 32 degrees F.

You say you would really like to help the urban homeless on both cold and super-cold American Northeastern and Midwestern nights? Chilly, plain cold and the bitterly cold, there are unpredictable nights that many cities are prepared to accommodate more homeless residents at shelters but for a number of reasons (both good and bad) thousands of Americas's rough sleepers take their chances outside?

Good. So see our inaugural post about our One Night, Person (March 5, 2015) campaign and our follow-up March 7, 2015 post. No, we don't have time to go over all of this again; we're working stiffs like you. Just read the posts.

Once again, and in short, here is the idea and the rules:

You're a Yuppie, professional or other generic dweeb between the ages of 22 and 82.You live in towns like New York City, Philly, Boston, Baltimore, Indianapolis, Cleveland, Wilmington, DC or Chicago.

Or similar cities in Europe. Or Asia. Generally? Think Northern Hemisphere. Planet Earth. Wherever Yuppies roam. You may live in the suburbs or in a downtown neighborhood of these cities. But if you work during the day in a downtown area of any of them, you and yours will go forth and do this:

1. Pick out and ask a homeless woman or man what articles of warm clothing she or he needs that you already have at home or in storage--thermal gloves, wool scarfs, warm hats and beanies, big sweaters, winter coats, thermal underwear, socks, etc.

2. Ask just one person at a time.

3. Agree on a time to meet (preferably at the same place) later that day or the next day.

4. Find the winter stuff you have at home or in storage.

5. Bring said stuff to the homeless woman or man as agreed.

6. Nine out of ten times, your new friend will be there when you show up.

7. Wait for forecasts of the next super-cold night--and repeat.




Posted by JD Hull. Permalink | Comments (1)

January 19, 2021

"Client and customer service...how hard could that be?"

Very. Making a client be safe and feel safe at the same time is as hard an order to fill as we can imagine. Whether you're a lawyer, accountant, hooker, fishing guide, house painter, drug dealer, or mom-and-pop corner store owner, superior work alone won't keep a good client or customer coming back.

Clients want something more. You have to figure out what that is.

And then everyone in your shop--yes, everyone--has to buy into CS like a cult, like a religion, like an angry sermon that took them out of their pews at The Church of the Final Thunder.

"Yes, yes, got that covered." One problem is self-deception: (1) most service providers think they know what CS is, but they don't; and (2) if they really do know, they don't know how to discipline their organizations to make CS stick.

(WAC?, by the way, does know what and how; the reason we give away our "secrets" is that we are confident that virtually none of you will ever be able to get and deliver client service. Yes, we are making fun of all you. All you "smart" people--embittered that you are not rich or powerful enough--who don't get other humans. You folks are hopelessly "get-the-net" delusional about CS. No intuition, no guts, no gospel--and no discipline.)

"All hat, no cattle." The second and more immediate problem is deceiving clients themselves. At a minimum, even if you don't have a clue what CS really is, do you say you provide it when you don't? Is CS a little joke at your shop? A ruse, maybe? Something for the website? For that first pitch? Well, there are voices in the wilderness besides ours on that one. And one of our favorites is Tom Kane at The Legal Marketing Blog. See again his post from June 2008, "Don't Let Client Service Be Merely Lip Service" and the related links.

Posted by JD Hull. Permalink | Comments (0)

January 17, 2021


Source: Pascal Le Segretain/Getty Images Europe (2011)

Posted by JD Hull. Permalink | Comments (0)

Flying is not the fun it used to be. If you came of age after The Great Neutering, here's some great American cultural and client service history you may have missed. See the nostalgic exchanges between commenters back in January of 2016--back when it had comments--at David Lat's Above the Law in "Former Biglaw Partner Who Got Wasted On Plane And Caused Flight Diversion Charged With Airplane Assault." Seventy-eight comments. Below is a sampling:

I miss the old days of flying first class on Pan Am. The stewardesses were very friendly, smoking a cigar was not taboo and slapping a flight attendant's posterior was greeted with a "you're a feisty one aren't you?" Nowadays, you get placed on the "no fly" list for innocuous conduct.







Posted by JD Hull. Permalink | Comments (0)

January 16, 2021


Crystal, blowing off work again--and just when you need her.

Not exciting. Just useful. In October of 1976, Congress passed a barely-noticed housekeeping addition to Title 28, the wide-ranging tome inside the U.S. Code governing federal courts, the Justice Department, jurisdiction, venue, procedure and, ultimately, virtually all types of evidence. 28 U.S.C. Section 1746 is curiously entitled "Unsworn declarations under penalty of per­jury".

It allows a federal court affiant or witness to prepare and execute a "declaration"--in lieu of a conventional affidavit--and do that without appearing before a notary. Under Section 1746, the declaration has the same force and effect of a notarized affidavit. Read the 160 word provision--but in most cases it's simple. At a minimum, the witness at the conclusion of her statement needs to do this:

"I declare (or certify, verify, or state) under penalty of perjury that the foregoing is true and correct. Executed on (date). (Signature)".

A "unsworn" declaration with the oath required by section 1746 can be used almost any time you need an affidavit, e.g., an affidavit supporting (or opposing) a summary judgment motion.

Posted by JD Hull. Permalink | Comments (0)

Wild Men. Wild Women. Wild Men and Wild Women are people who listen only to the little voice in their head. They get things done. They build things. Uncertainty and turbulence--in the economy, stock markets, governments, the weather, "pandemics," bad odds, you name it--only get their juices flowing. True, they often have dark and self-destructive sides—but we seem to like giving them a pass. They come with evey political and cultural stripe.

They don't care what you think.

Ever.

And here they are for 2021:

1. Christopher Columbus
2. Ted Turner
3. Dr. Johnson
4. Dr. Thompson
5. Theodore Roosevelt
6. Henry Ford
7. Michelangelo
8. Ayn Rand
9. Walt Disney
10. Japan
11. Boudica
12. Winston Churchill
13. Benjamin Disraeli
14. Arianna Huffington
15. Bucky Fuller
16. Nino Scalia
17. Bill Buckley
18. Bill Clinton
19. Steve Jobs
20. Ben Franklin
21. Nick Nolte
22. Jerry Lee Lewis


Plato (#27) was way Wild. Read the Timaeus.

23. The Welsh
24. Jann Wenner
25. Audie Murphy
26. Rasputin
27. Plato
28. Catherine the Great
29. Val Kilmer (way wilder than Jim Morrison)
30. Harry Dean Stanton
31. LBJ
32. Julius Caesar
33. Peter O'Toole
34. John Lennon
35. Joseph P. Kennedy, Sr.
36. Peter Sheridan
37. Christopher Hitchens
38. George Patton
39. Warren Beatty
40. Jack Nicholson
41. W.B. Yeats
42. Brigham Young
43. Lucien Carr
44. Joan of Arc and Charles Barkley (tie)
45. Dylan Thomas
46. "E"
47. Boswell
48. Ben Jonson
49. Mae West
50. Daniel Pinchbeck


Zelda Fitzgerald (#90) was Wild. So was her childhood friend Tallulah Bankhead (#91).

51. Daniel O'Connell
52. Quentin Crisp
53. David Boies
54. Holden Oliver
55. St. John of Patmos
56. John Henry "Doc" Holliday
57. Genghis Khan
58. Alexander
59. Charles Bukowski
60. Gordon Liddy
61. Malcolm Lowry
63. Keith Moon
64. Jonathan Swift
65. Babe Ruth
66. Chrissie Hynde
67. Donald Rumsfeld
68. Warren Zevon
69. Kim Jong-un
70. Billy Martin
71. Wm Beard Hull
72. Guy de Maupassant
73. Grace Slick
74. Edna St. Vincent Millay
75. Mickey Mantle
76. François Villon
77. Friedrich Nietzsche
78. Rep. Bob Eckhardt (Texas-D) (gifted, eloquent, exotic)
79. Al Neuharth
80. Ray Davies
81. Marc Randazza
82. Skippy the Head
83. Alec Baldwin
84. John Huston
85. Australia
86. Oscar Wilde
87. Oscar Levant
88. Ava Gardner
89. Frank Sinatra
90. Zelda Fitzgerald
91. Tallulah Bankhead
92. Vladimir Putin
93. Frances Farmer
94. Richard Burton
95. Partner Emeritus
96. Margaret Thatcher
97. Racehorse Haynes
98. Ben Bradlee
99. Davey Crockett
100. William Randolph Hearst
101. Steve Bannon
102. Donald Trump
103. Mike Cernovich
104. Scott Greenfield
105. Norm Pattis
106. Elvoy Raines
107. Bobby Knight
108. Johnny Winter
109. Robert Mitchum



Meet Ted (#2). He never cared what you thought.


Posted by JD Hull. Permalink | Comments (0)

January 15, 2021




Posted by JD Hull. Permalink | Comments (0)

January 14, 2021

What strange phenomena we find in great cities. All we have to do is to stroll about with our eyes open.

--Charles Baudelaire (1821-1867)

Benjamin Franklin, a Carrara marble statue in the District of Columbia by Jacques Jouvenal (1829-1905), a German American sculptor. The statue was dedicated on January 17, 1889, at 10th Street and Pennsylvania Avenue. It was moved in 1980 to its current site at the Post Office Pavillon at 1100 Pennsylvania Avenue. Photo: May 21, 2019

Posted by JD Hull. Permalink | Comments (0)

January 13, 2021


The photograph above was taken in 1890 by Jacob Riis. This is Bandits' Roost, an alley in Hell's Kitchen, then in its second century. It was taken long before the midtown Manhattan neighborhood got cute and trendy again. The work, images and outcry of Riis were famous at the time. So was this photograph.

But Hell's Kitchen actually started out cute and even pastoral. Three hundred years ago there were farms. Then came suburbs, and it was not really a "bad" neighborhood until around the time of the Civil War. Movies and novels maybe over-covered that second 150 years. Hell's Kitchen kept changing but stayed famous: from Irish and German immigrant sub-city to gangland neighborhood to actors' quarter to, these days, more of a yuppie heaven.

People feared the second round of "cute"--the gentrification of recent years--would destroy it. It didn't. It's still authentic in pulse and atmosphere. A few (not many) old families could afford to stay. Real estate brokers years ago came up with the new labels of Clinton and "Midtown West"--but those did not work. They could never replace the real name, the one that no one can even trace.

Sure, older neighborhoods, like older people, have personalities.

Personally, I think of the area as smaller and more compact than most descriptions. For me, it does not start until just north of the Lincoln Tunnel at 40th and then goes up to 57th Street. Its width, of course: West of 8th all the way to the Hudson. Yet it always seems worlds away from Times Square, right next door, and Midtown East.

If you are in Manhattan some weekend, stroll around there on a Sunday morning early, when it groans, complains and even growls like its old self. You will not head east. You won't even think about leaving Hell's Kitchen for a while. Too seductive. The uneasy mixes of Irish, German, Italian, and Everyone Else that dominated it--especially in the last 150 years--left certain imprints and energies. You can still feel and hear them in the stone of the buildings and street.

Posted by JD Hull. Permalink | Comments (0)

January 09, 2021




Posted by JD Hull. Permalink | Comments (0)

It's not school. It's no longer about you.

(See Rules 1-6 here and at the links Rules 7, 8 and 9.)

Practicing law is getting it right, saying it right and winning--all with a gun to your head. Being "accurate, thorough and timely" are qualities most of us had in the 6th grade, right? Back when everyone told us we were geniuses and destined for great things? Well, school's out--now it's about real rights, real duties, real money and personal freedom. That's a weight, and it should be.

Suddenly facts are everything--and the actual law less important than you ever imagined. In time you learn to research, think and put things together better and faster. You develop instincts. You learn there is really no boilerplate and no "cookie-cutter" work. You learn there are no "right answers"--but several approaches and solutions to any problem. You are being asked to pick one. But at first, and maybe for a few years, being accurate, thorough and on time is not easy to do.

"I Have Clients?!" One day, you start to visualize your clients as real companies and real people with real problems. These are your clients--not your parents or professors--and they are all different. You "feel their pain", and it's now yours, too.

Mistakes. If you work with the right mentors and senior people, they will allow you to make mistakes. You need freedom to make mistakes. You'll be reminded, however, not to let those mistakes out of the office. It's a balancing act, a hard one.

Really bad days? Your problem, Amber. You are expected to be a professional and put clients first on your worst damn day. A parent is sick, you are coming down with something yourself, your boyfriend is cheating on you, both of your boyfriends are cheating on you (and maybe with each other), your teenage kids "hate" you, and this morning you had to abandon that 12-year-old Honda you had in law school on the 14th Street Bridge.

And minutes before your big afternoon meeting or court appearance, a GC or co-worker calls you with the worst possible development, something unexpected and beyond your control, in a project for your favorite client.

These things will happen. And happen together.

You think you're pretty tough. But you sag visibly--like an animal taking a bullet. And in five minutes, you have to be at your very best. Again, it's not about school. It's no longer about you. You're beaten--but you have to get up and fight for someone other than yourself.

You up for this? Because, in our experience, very few of your peers are.

Bucking Up, Using Fear. And while you can't work in a state of constant worry, fear and paralysis, talking yourself into heroics, getting a little paranoid and even embracing a little fear won't hurt you, and may even help. You are being paid both (1) to be accurate, thorough, timely and (2) to just plain "not screw up".

"Thorough" means "anticipating", too. What makes you really good in a few years is being able to "see the future" and spot a ripple effect in a flash. To take a small example, if your client is in an active dispute with the government or on the brink of a full-blown litigation with a competitor, the client's and many of your own letters and e-mails aren't just letters and e-mails.

Whoa, they are potential exhibits, too. They can be used for you or against you. So they need to be written advisedly and clearly so that they advance your position and so that a judge, jury or someone 5 years from now can look at it cold and figure out what's going on. No "talking to yourself" here; think "future unintended consequences" when you think and write.

"But Not Perfect." Not talking about mistakes here. I refer to the paralysis of high standards. I know something about the second part of Rule 10--because I tended to violate it when I was younger. And I still want to.

Perfectionism is the Great Destroyer of Great Young Associates. Don't go there. Don't be so stiff and scared you can't even turn anything in because you want it "perfect" and you keep asking other lawyers and courts for extensions. It's not school, and it's no longer about you. Think instead about Rule 8: Think Like The Client--and Help Control Costs. Balance efficiency with "being perfect", and err on the side of holding down costs. If a client or senior lawyer in your firm wants your work to be "perfect", and for you to charge for it, believe me, they will let you know.

Finally, and I almost forgot: always use the Blue Book/Maroon Book for your citations. No one gets a pass on that one.

You conventionally religious? We are not. But some days lawyering you will just have to "get your Job thing on". You suffer. But you still perform. Job and His Friends, Vladimir Borovikovsky, 1810s.

Posted by JD Hull. Permalink | Comments (0)

January 07, 2021

I didn't sign up for this. I didn't change my party registration from D to R in early 2017 for this. I worked in this building twice in my 20s—for both Senate and House, both Ds and Rs—and it means a lot to me. I lived under its shadow for 15 years. I 'grew up' near it. Got married 2 blocks from it. Worked, played, drank, sobered up, loved near it. I even know how the tunnels work on both sides. You don't charge it. You don't let people in without the usual checks. Very few of the miles of Trump people yesterday I spent 6 hours with had anything to do with it. But we don't let this happen here. Ever.

Posted by JD Hull. Permalink | Comments (0)

January 06, 2021




Posted by JD Hull. Permalink | Comments (0)




Posted by JD Hull. Permalink | Comments (0)

January 05, 2021

1. Represent only clients you like.

2. The client is the main event.

3. Make sure everyone in your firm knows the client is the main event.

4. Deliver legal work that changes the way clients think about lawyers.

5. Over-communicate: bombard, copy and confirm.

6. When you work, you are marketing.

7. Know the client.

8. Think like the client--help control costs.

9. Be there for clients--24/7.

10. Be accurate, thorough and timely--but not perfect.

11. Treat each co-worker like he or she is your best client.

12. Have fun.

Copyright 2006-2020 John Daniel Hull. All Rights Reserved.


Posted by JD Hull. Permalink | Comments (0)

January 03, 2021

This was a friend, client and mentor since 1985. Always amazed he never became POTUS. Closest thing to Abe Lincoln I've ever seen. Character, charm and brains. Formidable work ethic. Gifted lawyer.

He died on Christmas Eve.

"Richard Thornburgh, Former Governor and Attorney General, Dies at 88"

Posted by JD Hull. Permalink | Comments (0)

January 02, 2021

Happy New Year. Time to get back to work.

Remember clients?

Clients 99.5% of the time are not paying you to be perfect. Clients don't want perfect. In the rare instances they do want perfect, they will let you know. So clients want excellent. Be excellent, not perfect. See, e.g., "Rule 10: Be Accurate, Thorough and Timely--But Not Perfect" of our world-famous and irritating but life-changing 12 Rules of Client Service.


Perfectionism: The horror, the horror. Above: Martin Sheen in Apocalypse Now (photo: Miramax).

Posted by JD Hull. Permalink | Comments (0)

December 31, 2020




Posted by JD Hull. Permalink | Comments (0)




Posted by JD Hull. Permalink | Comments (0)

December 30, 2020

Eternity is a mere moment--just long enough for a joke.

--Hermann Hesse's version of Goethe, dead, possessed of a superior perspective, and speaking to Harry Haller, in Steppenwolf (1927).

Posted by JD Hull. Permalink | Comments (1)